Tag Recapture!! GFR3008 Pacific Sailfish, Named "Dash"
The Pacific Sailfish (Istiophorus platypterus) named "Dash" (Tag ID: GFR3008) was originally tagged & released by angler Dan Hess on February 19th, 2016.  Dan was fishing with Captain Jody Whitworth (GFTR Board Member) aboard the boat III Amigos, out of the Official Research Center Los Sueños Resort and Marina (http://www.lossuenos.com/), located in Playa Herradura, Costa Rica.  The Sailfish was estimated to be 65 inches (165.1 cm) total length and had an estimated weight of 50 pounds at the time of release.
The Sailfish was recaptured 27 day later on March 16th, 2016 by the commercial longline vessel El Viejillo, with Captain Roberto Zapata out of Quepos, Costa Rica.  During that 27 day time period, the Sailfish most likely stayed just offshore in the productive waters, where conditions are ideal for feeding.  The recapture was near an area of seamounts approximately 110 miles offshore.  At the time of recapture, the Sailfish had an estimated length of 66 inches and weight of 60 pounds.
Pacific Sailfish are characterized by an enlarged dorsal fin which forms a "sail".  The body has a dark blue dorsal side and silvery white bottom side, with approximately 20 bars of light blue spots running vertically along the body.  Pacific Sailfish generally inhabit the surface oceanic waters offshore with frequent movement into nearshore waters.  They are often considered less oceanic compared to other billfish species.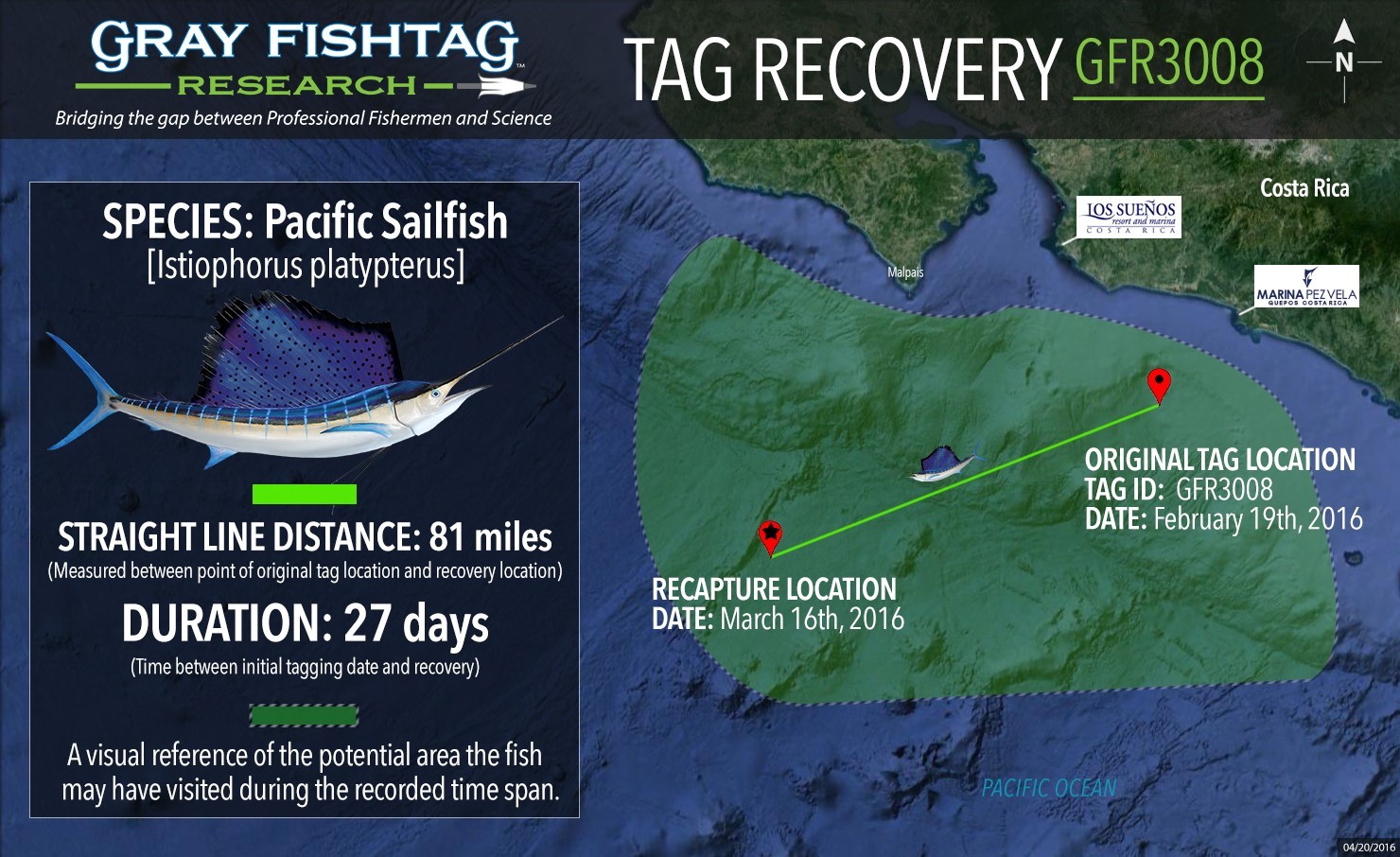 This tag recovery is a great example of the collaborative work of fishers from all sectors.  The Sailfish was tagged by recreational anglers aboard a charter boat from the GFTR Official Research Center, Los Sueños Resort and Marina, located in Herradura, Costa Rica.  The Sailfish was then recovered by a commercial fisherman and reported to another GFTR Official Research Center, Marina Pez Vela located in Quepos, Costa Rica.
The Gray FishTag Research program has been able to shatter the expectations for fish recapture rates thanks to the hard-working professional fishermen on the water day in and day out.  Tags are provided free-of-charge to the collaborating professional fishermen, and the tag data is available to the public at www.GrayFishTagResearch.org
The III Amigos charter boat crew will receive some Gray FishTag gear for their tagging efforts.  Captain Roberto Zapata will receive a pair of Costa Del Mar sunglasses, a Tag & Recovery Certificate, and Gray FishTag gear for reporting the tag recovery.
The tagging and research efforts is made possible by our research centers and sponsors AFTCO, AA Video, American Fishing Wire, FECOP, Mold Craft, Costa Del Mar, CR Primo Fishing Tackle, Shadow Graphics, AquaWorld, Crocodile Bay Resort, Grande Alaska Lodge, Los Sueños Resort & Marina, Marina Pez Vela, The Pisces Group and The Zancudo Lodge.
For more information, please contact the Gray FishTag Research in-house fisheries scientist Travis Moore at travis@GrayFishTag.org or 954-675-3896
"Get Involved Today"
The success of the program is made possible by the participation of the hard working fishing professionals and the generous contributions from our partners and donors. Any contribution is tax deductible and will go directly to support our cause and help the growth of the program.