Greetings and Happy New Year from GoFishDan!
By Dan Kenny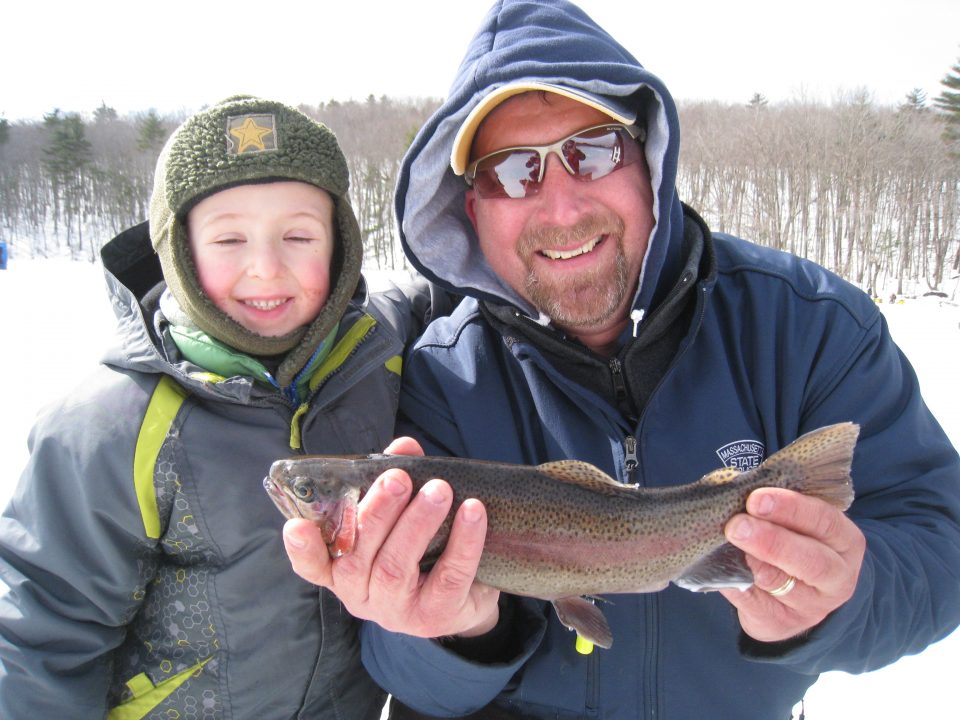 The ice fishing season was off to a tremendous start! With record low temperatures for a solid two and a half weeks, most lakes and ponds in New England were locked up solid. In fact, it was the coldest seven-day period in the last 100 years.
I guess we can forget about global warming.
In all seriousness though, I was super excited that year for the cold weather because I knew I would be able to get out on the ice a couple times that season, even before the New Year. That usually doesn't happen for me, partly because each winter I'm spending so much time running the New England Fishing & Outdoor Expo, and partly because the last few winters just haven't been very cold.
All the ice fishing groups on Facebook, websites like iceshanty.com, and of course everyone in my social network was reporting very good fishing, with plenty of photos to prove it. I saw guys in Massachusetts & Maine pulling in monster pike and bass, folks in New Hampshire bringing in crappie perch and bass, and even some Connecticut guys on Candlewood Lake and the Connecticut River getting in on the action. I also saw that a guy posted a photo of a keeper-size striped bass from the Connecticut River. Now that'll spool you in a hurry!
If you haven't tried ice fishing it can actually be super fun, even if it sounds like a crazy idea. Half of what makes it great is everything that goes on around the fishing. You can get a group of friends together, set up traps, sit on a bucket jigging, eat breakfast, lunch or dinner on your portable stove (preferably some perch or crappie for lunch), and build a small fire to keep warm. In this day and age of improved shelters, portable heaters, and high quality socks, boots, gloves, ski pants and winter jackets, there aren't a lot of good reasons to keep you from having a great day on the ice.
That being said, whether you're new to the sport or you're someone who's been doing it for a while, I still recommend getting a hold of an experienced fishing guide and spending a day with him or her. You can learn so much about proper ice fishing setups, ice safety, flashers, jigging and trap fishing. I'm sure that well known guides like Tim Moore from New Hampshire, Richard Yvon from Maine, Paul Mueller from Connecticut and Patrick Barone from Massachusetts are all really happy with the early ice fishing season. If you contact one of them, you'll be learning from experts who rely on recreational anglers for their business, so it's definitely a win-win for all.
Good luck with any future ice fishing seasons and please do remember that safety comes first! Always check ice conditions, always keep an eye on the weather and always wear ice picks.
Be smart, have fun!
Until then, God Bless and
Go Fish!