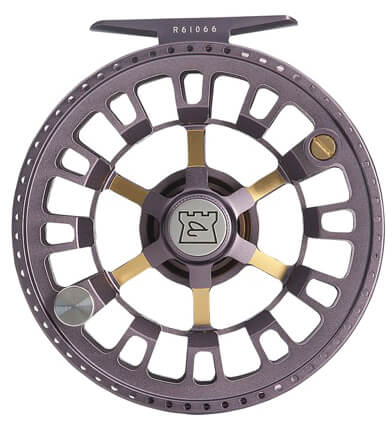 The new Ultralite CA DD fly reel has a stunning industrial design and ultra-large arbor format. This provides technical anglers with a lightweight, finely tuned reel that is more than a match for the most demanding freshwater species. With its reputation for high-end quality and unrelenting performance, Hardy introduces the new Ultralite CA DD fully designed and developed by the Hardy Team in Alnwick, England.
The finest freshwater, large-arbor reel ever produced by Hardy, the Ultralite CA DD fly reel features aesthetic and structural improvements for serious anglers. The CA DD body is made from aerospace-grade 6061 bar stock anodized aluminum for superior strength with a lightweight feel. There are eight sizes available, from size 3000 to 10000, with the 3.54-inch size 3000 (for 3 to 5-weight lines) hitting the scales at just 4.6 ounces.
New for Hardy is the 340-degree, color-coded disc drag. The drag setting can be identified with a simple glance as the red dots on the drag knob clearly indicate a stronger drag and lighter drag settings are indicated by green. The drag can be configured from zero to maximum in just one turn of the knob.
The reel also features a captive spool release system to prevent the loss of any small parts when changing spools.
The Hardy Ultralite CA DD fly reel is available with a two-tone titanium or black finish. MSRP is $275.00 – $309.00 for the black version and $275.00 – $419.00 for the titanium reel, each with a soft neoprene case. Extra matching spools are also available.