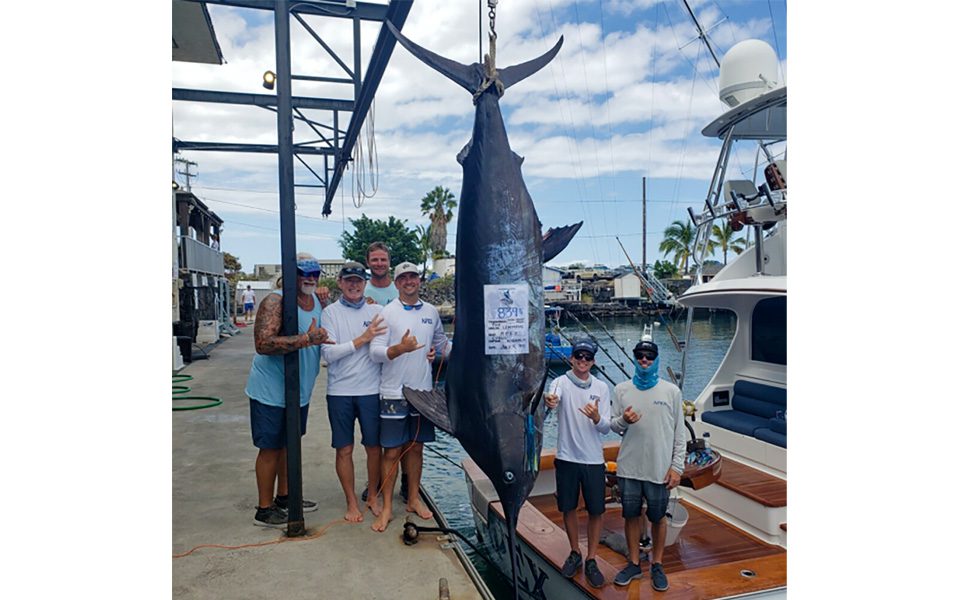 A fleet of 152 boats competed around the globe on July 4 in the 2023 edition of the single-day Blue Marlin World Cup. At stake was a record purse of $1.241 million in combined prize money. After a lengthy day of fishing, Apex, a 54-foot Donnie Caison custom sportfisher based in Kona, Hawaii, emerged as the winner to earn the winner-take-all jackpot.
Fifteen minutes after lines in the water, local time, Angler Tim Lemman began his 45-minute battle to defeat the 834.5-pound blue marlin. The blue measured 123 inches (lower jaw to fork length), with a girth of 70 inches. Capt. Cyrus Widhalm runs Apex. The winning fish was caught on a locally-made Kraken lure.
The Blue Marlin World Cup is a one-day fishing tournament conducted globally. Blue marlin weighing more than 500 pounds are the only eligible species, and competing teams fish in their respective time zones from 8:30 am to 4:30 pm. Entries are weighed on certified government scales in their respective locales. The payout is a winner-take-all format. 2023 is the 39th edition of the World Cup.
The Tournament entry fee for the World Cup is $5,000 per team. The optional Big Blue Challenge (BBC) is an additional $8,000. There is a winner for the Tournament and the BBC. If the team with the biggest blue is entered in both categories, they take home all the money. Apex was entered in both. Sixty-eight percent of the fleet was across the board in entries for this year's contest.
Bluebill, based in Wrightsville Beach, North Carolina, posted an early contender after weighing a 714-pound blue following a fight lasting one hour and 45 minutes. Bluebill (61 Briglia, based in Nags Head, N.C.) was fishing in Bermuda for the World Cup. The angler was Rob High, with Capt. Mike King at the helm. Bermuda had 45 boats competing.
The Eastern Atlantic region was also well represented with nearly 50 boats in Madeira, Cape Verde (23 boats), Senegal and the Canary Islands. The bite was hot, with most boats reporting three to four blues apiece but none met the 500-pound minimum. Teams were also fishing across the Gulf of Mexico, with single contestants from North Carolina's Outer Banks and Ocean City, Maryland.
It was a very exciting day of action. Lines went in at 2:30 a.m. EDT in Senegal and Apex was declared the winner at 10:30 p.m. EDT. The fishing overall was hot and there was another record for overall payout. Congratulations to Apex for a trophy fish and for bringing the cup back to Hawaii for the first time since 2018.
The 2024 Blue Marlin World Cup will be held July 4, 2024. Registration on the website for the 2024 Blue Marlin World Cup will be available as of Aug. 1.
For more information or to register, visit: www.bluemarlinworldcup.com.