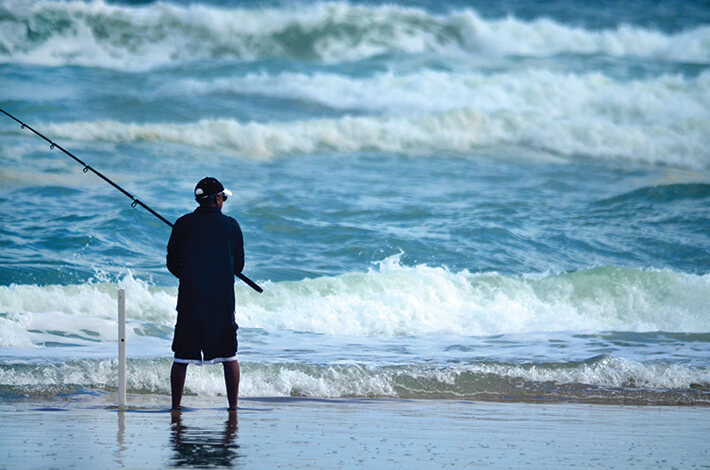 No one knows how last month's hurricane will affect the fishing, but nature has a way of righting itself. Fish will go on doing what they've always done, and what that means is the mullet are running on Florida's east coast.
Black and silver mullet of all sizes have pushed out of the estuaries, and they are migrating south along the beaches in pods toward their final destination offshore of south Florida, where they will school up to spawn. Many of them will not make it. This is why the mullet run is one of the best times of year to be an angler.
Along with those mullet come a host of predators taking advantage of the easy, mobile buffet. Bluefish, jacks, and Spanish mackerel are marauding off the beaches. Reports of mullet started showing up from north Florida in early September. The action can last into November, but October is the heart of the run for most of the coast. As anglers from boats or beach pick through bluefish, they'll also find snook, redfish, seatrout and flounder. Many times they'll be right up on the shore harassing mullet, and it's not unusual for big tarpon and sharks to join the melee. Those armed with lighter tackle can find themselves spooled in a heartbeat.
At one point or another, mullet, whether they are in smaller pods or vast schools that darken the waters, will pass every beach on the Atlantic Coast. It is at this time of year when a smartphone can be an angler's best friend. When your buddy calls up to tell you the mullet are thick off such-and-such beach, it's time to drop everything you were doing and head for the water. There might also be fresh intelligence at your local tackle shop or on online forums.
Piers and jetties are better options right now than at any other time of year. Bait piles up on the north side of structure, and mullet are funneled up to become easy prey. The same is true of inlets. Mullet following the shoreline become grouped up and vulnerable. Beaches with prominent troughs or drop-offs allow predators to herd up baitfish for the slaughter. Seawalls, bulkheads and rocky shorelines, anything that will concentrate mullet is where you should look for them.
It goes without saying that live mullet is the best bait during the mullet run. There should be no shortage in the tanks at the bait shop, and netting them shouldn't be too hard. Game fish will be with the mullet schools, so whatever technique keeps your bait with the schools is what should be used. It really doesn't matter if you freeline them, sink them on a jighead or fish them under a float. If you can get the bait into a feeding frenzy, there's a better than good chance something will eat it.