By David and Becky Hulsey
The Northern part of Georgia, Western North Carolina and Tennessee are blessed with lofty peaks that help to keep the summer sun at bay. High mountains that are heavily wooded pump out chilly water that travels down the slopes feeding hundreds upon hundreds of miles of trout streams. Even in the heat of a Southern summer the fly angler that is willing to burn a little shoe leather can find fishable populations of wild trout that reside in these fish havens above the clouds.
Checking water temperatures with a thermometer is imperative and only fishable temps are below 65 degrees. Any warmer readings and you're advised to go catch bass or carp. The upmost care should be taken if you fish here not only for the fish's sake but also for the surrounding vegetation and creatures that live here. Some plants and animals, such as certain salamanders, reside here and nowhere else on earth, just like the jewel of these remote waters, the Southern Appalachian Brook Trout. Resist the urge to move rocks around or build cairns, chop down plants or litter. These are sacred places that people aren't supposed to live in, just visit occasionally.
Fly fishing gear should be minimalistic and lightweight. Fly rods under seven feet and in a two or three weight configuration are about right. My favorite rod is a six and a half foot two weight that can throw laser beams in the tightest of cover. Fiberglass and Tenkara rods are like old friends up here and can make a six-inch trout feel like a tiger! Fly lines should load quickly at close range, too, as most casts are well under 15 feet. The creek taper fly lines are designed for this and make quick work of little roll and bow and arrow casts. Leaders should be as short as possible around the length of your fly rod or less. I build all my own leaders custom to the waters I fish and sometimes they are as short as five feet long for the tiny high elevation brooks. A spool of 5x tippet in your back pocket will repair any snafus you might have.
Fly selection can be kept in a single shirt pocket sized fly box and not complicated at all. Dry flies are normally all you need to coax up a strike or two in every hole and piece of pocket water in the creek. High floating dries such as Yellow Stimulators, Yellow Humpies, any Wulff type fly you like and a Hi Vis Elk Hair Caddis should suffice. Big, barbless, size twelve and fourteen high floaters are usually on the menu and will keep you busy unhooking fish.
Care should be taken where you place your feet and hands, as timber rattlers, copperheads and the always present yellow jackets nest love the stream areas during summer. Little chipmunks, mice and the like move closer to the water sources as some areas get dry during summer providing prey for old No Shoulders. Fishing here can definitely be worth the effort, sweat and homework to find these areas. I hope to see you there!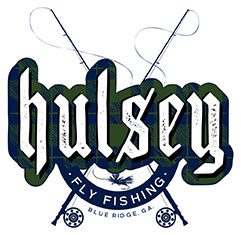 Give David Hulsey a call at (770) 639-4001 to book a class or a guided trout trip. See his website at www.hulseyflyfishing.com