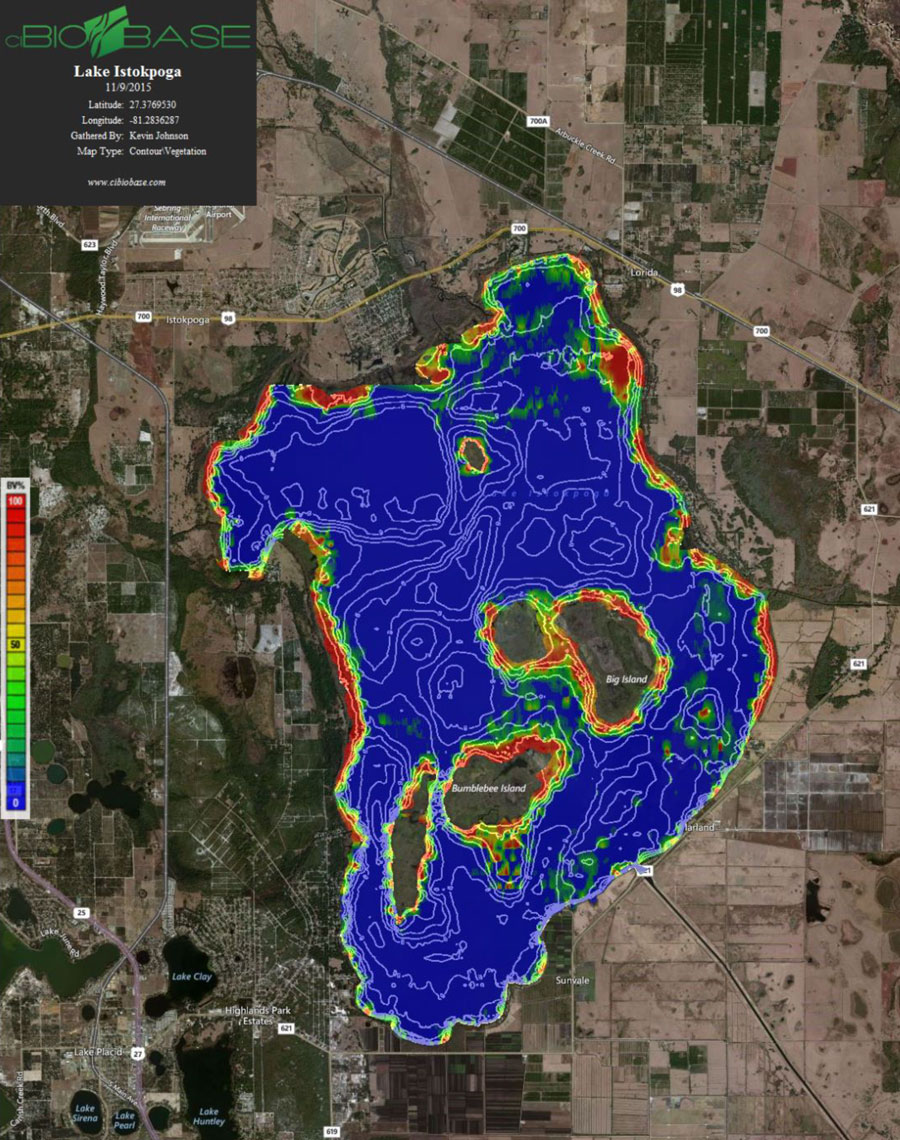 Lake Istokpoga is the largest lake in Highlands County and the fifth largest freshwater lake in Florida. The lake has gained of reputation of holding large numbers of trophy size bass and large crappie.
Situated in southeastern Highlands County, its northern border lies just south of U.S. Hwy 98 and east of U.S. Hwy 27. Covering approximately 26,762 acres the lake has a surface area of over 43.75 square miles yet its average depth is only 4-feet deep with a maximum depth of only 10-feet. It belongs to the Kissimmee River water shed and is fed from the west by Josephine Creek and Arbuckle Creek to the north. Two eastern canals discharge waters that eventually feed into Lake Okeechobee via the Kissimmee River as well as supply water for the Indian Prairie Canal and the Harney Pond Canal systems.
Along the banks of the lake you'll find pockets of residential communities as well as several fishing camps. However the vast majority of the shoreline remains agricultural and undeveloped. In the center of the lake there are five islands. Grass Island is a small outcropping of grass in the northern portion, Big Island is in the center of the lake, Bumble Bee Island is in the middle of the southwest corner and Long Island is to the west of Bumble Bee. Various trails and channels sub-divide Big Island and Bumble Bee Island into smaller outcroppings of land and emergent vegetation stands.
There are numerous boat ramps along the shoreline. Some are associated with residential communities, some with the local fish camps, one marina and five public boat ramps of which two are in county parks. The northern park boat ramp is in Istokpoga Park and is accessed from U.S. Hwy 98 in Lorida, FL. It has two double lanes providing launching for four boats, plenty of dock space, and paved parking for 45 boat trailers. The southern park boat ramp is in Windy Point Park located off of County Road 621 in Lake Placid, FL. This ramp has two single lanes with a floating dock and paved parking for 73 trailers. During the height of the season, you are likely to find multiple fishing tournaments being run simultaneously out of both parks along with a large number of recreational fishermen.
What makes Istokpoga such a great fishery is its vegetation. Similar to Lake Okeechobee, there is a wide variety of plants that provide home for bass, panfish and baitfish. Some of the varieties include; bulrush, cattails, pencil grass, Kissimmee grass, American Lilies, hyacinth, pepper grass, eel grass, coontail and hydrilla. There are also stands of moss filled Cypress trees along the shoreline which makes for southern style scenery and fishing. With all this vegetation, Lake Istokpoga is heavily monitored and under weed control management programs through the FWC. Spraying of invasive plants is aggressive and often keep the fish on the move.
With all this area and vegetation, you'll find a large variety of fish, including trophy sized bass, crappie, bluegill, shell crackers, bream, pickerel, catfish, bowfin, gars and plenty of baitfish. You'll also notice there are a large number of alligators in this lake.
Being a shallow water lake, the lake's color is usually stained to muddy which allows the use of heavy braided lines and big baits. Depending on the cover you're fishing, you'll have a wide selection of baits to choose from including; spinner baits, buzz baits, top water frogs, propeller baits, swimbaits, crank baits, rattle traps, swim jigs and big worms. Most trophy bass seekers will concentrate on flipping the shorelines with big jigs, creature baits, and big worms. Due to the water's stained nature, black & blue, Junebug and dark reds are the most popular colors. When water is flowing into the lake from Josephine or Arbuckle creeks, or out of the lake via the spillways, the additional current will attract a large variety of fish.
Typically the peak of the bass spawn occurs from January to March. During this period look for cleaner water with added depth and a hard bottom. Areas protected by wind and wave action will provide bedding bass shelter from the elements. Though Lake Istokpoga has yet to register a Hall of Fame class bass (13+ lbs) in the FWC Trophy Catch Program, there have been over seventy entries of Trophy Class fish which are bass between 10 – 12.99 lbs. As a result, Lake Istokpoga earns Bassmaster's number two spot for the best bass lake in Florida and the number six slot in the Southeast Region.
Since the lake is shallow, water conditions can change quickly due to windy conditions and storms. Not only will this have you searching more areas for clean water, it's also something you need to be aware of when on the water. Wave heights can pick up quickly during stormy conditions so keep an eye on the weather. Quickly changing water conditions can also make this a tough lake to fish, one day the bass bite is on fire and the next day the fish moved to more favorable conditions.
Lake Istokpoga is also a great crappie-speck fishery. Winter is typically the best time of year to catch crappie with the deep water areas east of Big Island and west of Long Island being the preferred areas. Here drifting over the deeper holes with live minnows, jigs tipped with minnows and beetlespins produce well. As spring rolls around, the specks will move into the bulrush and spatterdock along the shoreline to spawn. During this period, drifting slowly through the vegetation with crappie jigs will work.
Lake Istokpoga is a great fishery for our area. Whether you're fishing for trophy bass or slab sized specks, if you live in the area or just visiting, this is a lake you should get to know.
Good luck and see ya on the water
Geoff