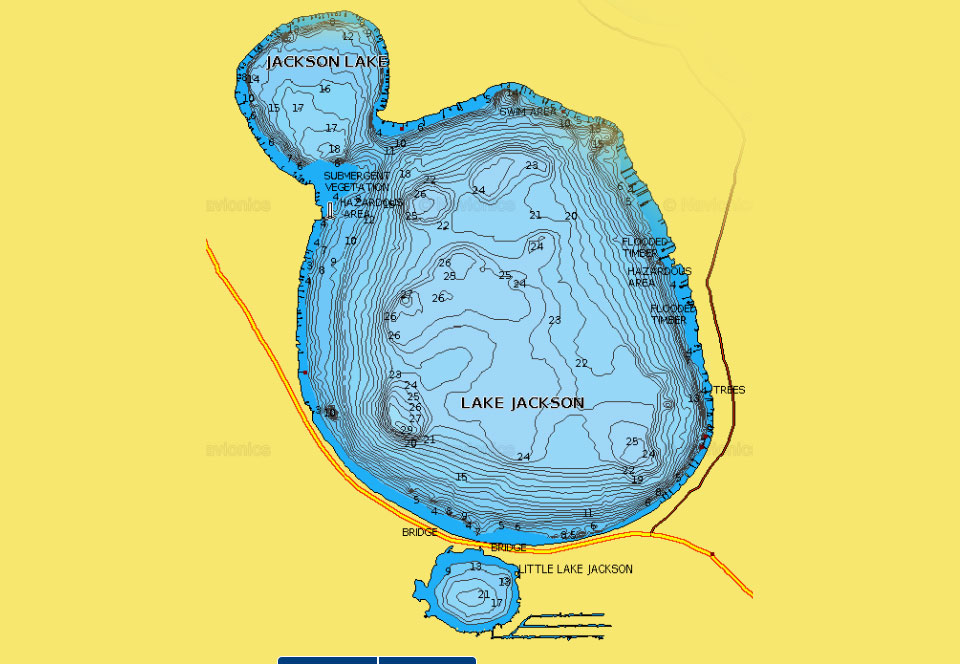 Lake Jackson is a lake that is quite visible and pronounced as you travel through Sebring FL. The lake is a sizable lake and covers approximately 9,212 acres and consists of two lakes, Lake Jackson and Little Lake Jackson which are interconnected via a short channel which passes under US Route 27. The main lake has a maximum depth of approximately 26-feet while Little Lake Jackson has a depth of 21-feet. Lake Jackson is one of the many lakes in Highlands County that is frequently targeted by local fishing clubs and trail tournaments. Weights are generally average (2-4 lbs) with a few nice sized kickers in the mix. To date there has been only one bass registered to FWC's Trophy Catch program in excess of 10-lbs and that was an 11.0 lbs fish caught by Dean Harcourt in May of 2014.
Both lakes have developed shorelines with residential communities and a condo unit surrounding the lake. The lake has various private boat ramps and one public boat ramp at Veterans Beach located on the west side of the lake. There are also three public swimming beaches as well as a public pier on the east side of the lake from which you can fish from. Most residence have docks which provide some structure for fish to hold to. Pleasure craft and water sport activities such as tubing, water skiing and jet skiing are common especially in the summer months.
Lake Jackson is one if the clearest lakes in Highlands County. This can make for difficult fishing. Light line and natural colors are important for successful fishing.
The main lake has a bowl shape with a sizable cove off to the north. Contours within the main lake are gradual slopping along most of the shoreline. The majority of the lake is structure free at depths over 5-feet and has a sandy bottom with little vegetation such as hydrilla and submerged grasses. Most bass will be holding to the shoreline and at depths greater than 15-feet.
The overall shoreline has short emergent grass edges and weed lines to fish topwater baits, frogs, flukes and swim baits. Offshore there are a few man-made tree piles which can be fished with shaky heads, drop shots and plastic worms.
Little Lake Jackson is also a bowl shaped but it has much more in the way of structure. Edges are lined with cattails, buggy whips and Kissimmee grass. The canal that connects the two lakes often creates a current when the winds blows out of the east which attracts many fish. In addition to Carolina rigs and drop-shots, there are also some areas where flipping is productive especially during the spawn.
Since both lakes are clear water lakes, natural colors like watermelon, green pumpkin, and natural shades produce the best. These two lakes are also very friendly to wild shiner fishermen.
Both Lake Jackson and Little Jackson hold a nice population of pan fish including specks and bluegills. The specks are nice sized and seem to favor jig-heads tipped with minnows.
Good luck and see you on the water.