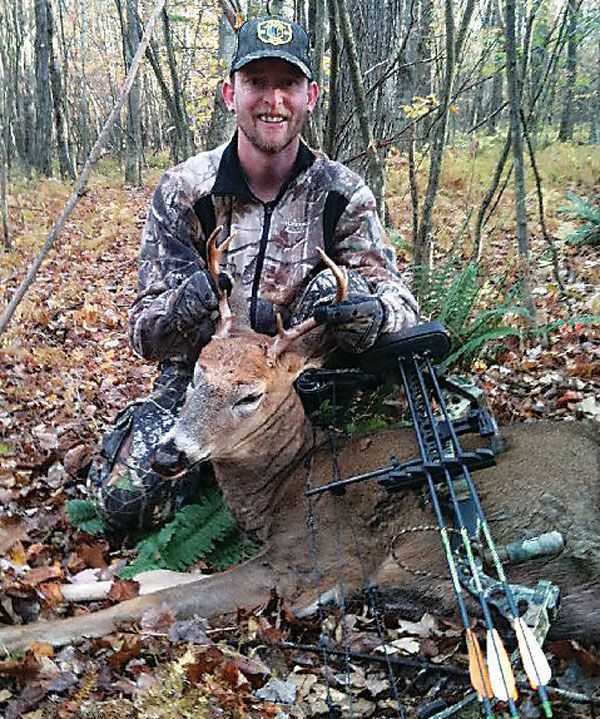 By Tim Moore
As a hunter, it is easy for me to get stuck in patterns. Sometimes they are patterns that work and sometimes they are not. I tend to ignore the patterns that work because, well because they work. The only problem with that is I want to be the best hunter I can be. In order for that to happen I have to break out of my comfort zone and try something new, knowing that it might not turn out the way I had hoped. I do this from time to time, but I don't always learn what I think I will.
One season my goal was to learn some new areas to hunt. So, I began scouting early and found several new places to hang stands. One evening toward the end of October I put some estrous doe scent out and climbed into my stand. I was working a bleat can about every thirty minutes when I noticed some movement downwind from my stand. Then I saw antlers. It was a small eight pointer. I estimated him to be around 150 pounds. He was coming through thick brush straight toward my scent wick. When he finally presented me with a shot I sent an arrow flying and watched as the fatally wounded buck ran back in the direction from which he came.
After about 30 minutes I climbed down from my stand and started tracking. I was losing daylight and I eventually needed a flashlight. I continued following blood, but within minutes my flashlight died. I pulled out my spare and guess what, it was dead too. I decided to back out and go back for him in the morning. The next morning my wife joined me for the recovery. We found the deer laying just 30 yards from where I quit tracking.
It was 10 a.m. by the time we made it to the tote road that led back to the truck. As we made our way down the tote road a thick-racked, very large bodied deer, walked across the road less than 100 yards away from us like we weren't even there. He was so big that my wife, who only saw the back half, thought it was a horse. I nicknamed him Andre and hunted him for the rest of that season without another sighting, but I didn't feel defeated, I felt invigorated. Upon discussing this deer to others I realized that I wasn't the only one having such sightings. There is a surprising amount of nice deer taken in my area.
I learned a lot that season. One is that it's good to occasionally get out and find some new spots. It is easy to get stuck in the same old pattern year after year and it took a little change for me to realize that. I learned a few things that I took back to my old spots, which made hunting there more productive and more fun. I also learned that in order to improve at something, like tree stand placement, you have to keep doing it. I now routinely change things up. I set a goal of trying something new each hunting season in hopes it will make me a better hunter. Good luck to all the deer hunters this season. Be safe and shoot straight.
Tim Moore, (603) 842-3572. Tim is owner of Tim Moore Outdoors LLC, offering NH kayak fishing charters, ice fishing charters, deer and turkey hunting, and is Pro Staff for Clam, Ice Team, Vexilar, Maki Plastic, Release Reels, and Down N Dirty Outdoors. Visit www.TimMooreOutdoors.com for more information.
[easy-social-share]