Poling mangrove edges and flats in search of tailing and belly crawling redfish is as much hunting as it is fishing. When the target is sighted and it's time to take a shot with an 8-weight fly rod, your aim better be on target.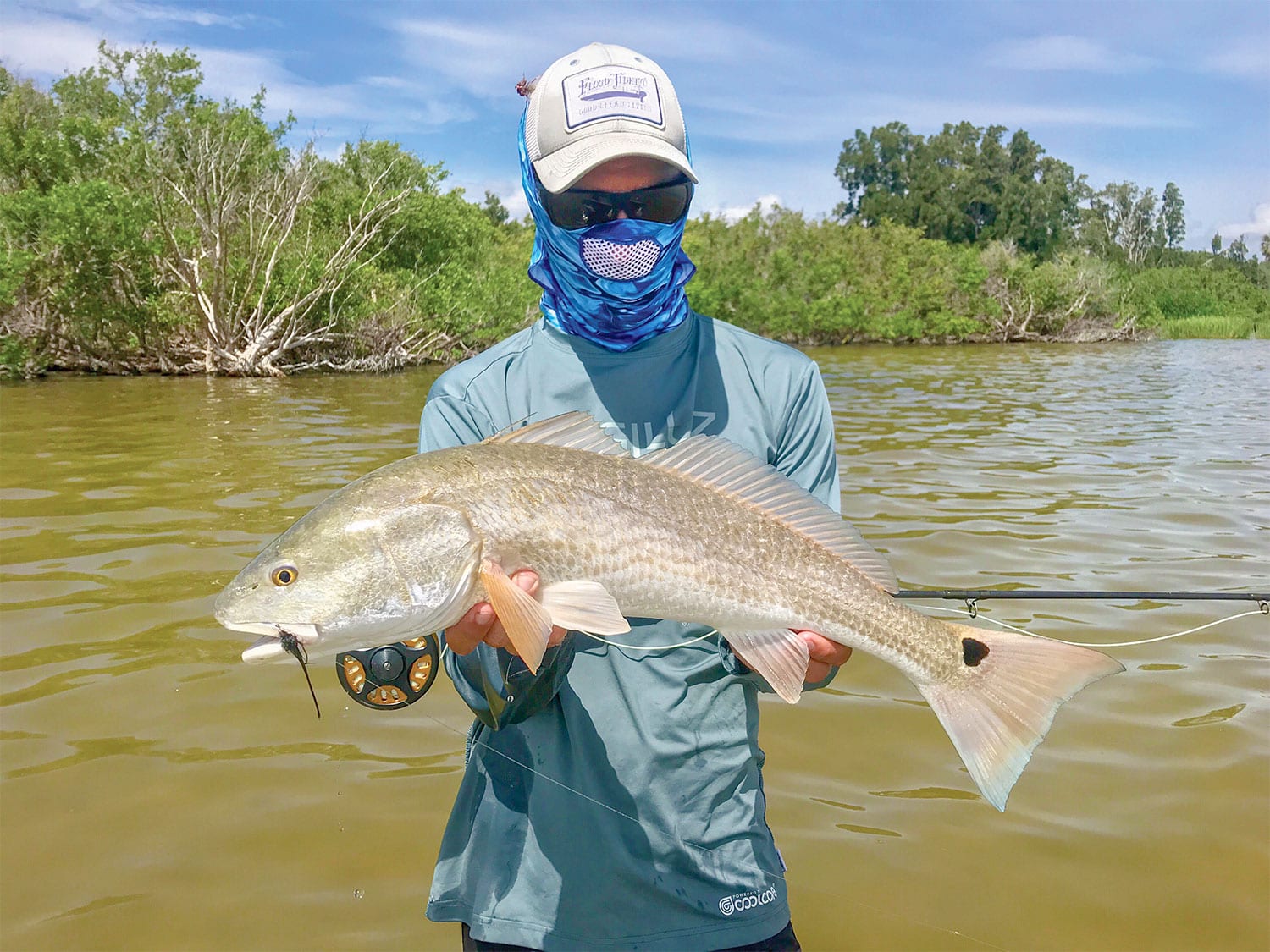 Gillz pro staffer Noah Miller, of Melbourne, Fla., has spent the on-the-water hours it takes to consistently take reds on the fly. He's one of those anglers who knows there are still plenty of fish in the famous inshore waters around Titusville. The Indian River, Banana River and Mosquito Lagoon might be facing water quality challenges, but the fishing remains good.
Right now, during the fall mullet run and lasting into February is prime time on Florida's east coast.
"There's lots of forage, and the fish are happy," Miller said of current conditions. "They're very opportunistic this time of year and will eat almost any fly, as long as it is presented correctly."
The redfish display a lot of schooling activity in preparation for a late fall spawn. These fish are resident to their respective waters and remain there through the seasons, even during the spawn. They can be encountered in large schools of 100 fish or more, and finding them is the key to catching them.
"Put in the time on the pushpole," Miller coached. "These fish do move, but they might only be 200 yards away from where they were yesterday. If things look right and you think there should be fish around, don't leave an area until you're certain they're not there."
If the fish are not visible, it is tough to catch them on a fly. With conventional gear, an angler can make long searching casts to cover water for fish that are not showing themselves. With a fly rod, you're better off holding the fly on the deck until you spot a fish. Seeing the fish and which way it is headed allows for presentation of the fly. You want it to plop down in front of the fish and close, but not too close.
"About 40 feet is the cast I like to make," said Miller. "You'll be able to tell if he's seen it and is interested right away… as soon as the fly hits the water. Then you want to start stripping it away from the fish to make it look like a fleeing crab, shrimp or whatever fly you're fishing."
Miller caught the redfish on the cover of this month's editions of Coastal Angler Magazine in stained water with a Seaducer pattern that had purple and black hackle feathers for a tail, a black EP Fiber head and bead chain eyes. That fly worked for the 26-incher on the cover, but this time of year presentation is much more important than fly selection.
Noah Miller is a Gillz (gillz-gear.com) pro-staffer and is co-owner of Florida Fly Co., which provides the things fly rodders need to fish Florida's waters. Check them out on Instagram @FloridaFlyCo and on Facebook.
By Nick Carter