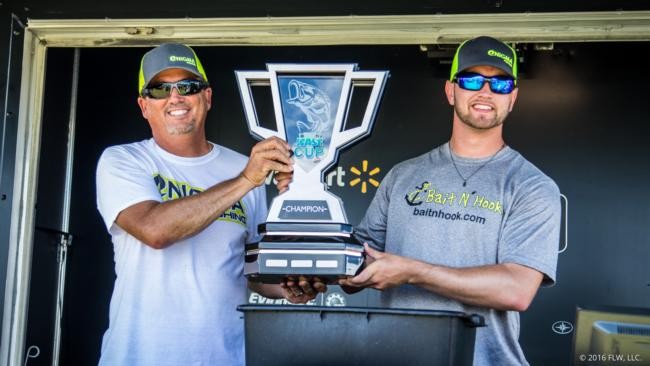 The ICAST annual trade show (International Convention of Allied Sportfishing Trades) in Orlando Florida kicked off its 4-day expo on Tuesday July 12th with the 2nd Annual ICAST Cup fishing tournament held at Big Toho Marina located on Lake Tohopekaliga in Kissimmee, Florida.
Presented by the FLW, the ICAST Cup Tournament is a fund raising event for Keep America Fishing (www.KeepAmericaFishing.org), the industry's advocacy group fighting for the preservation of anglers' rights to sustainably fish on our nation's waterways. The event pairs industry professionals with professional anglers and media representatives for a fast paced four-hour shootout. Though the event is a fund raiser, on the line is a year's worth of bragging among their peers who are some of the biggest names in professional fishing. Last year's inaugural tournament was won by the Mystik Lubricant Team consisting of fishing legend Bill Dance, Cody Detweiler and Dave East who bested a field of forty-eight boats with a 5-fish bag weight of 17.06 lbs.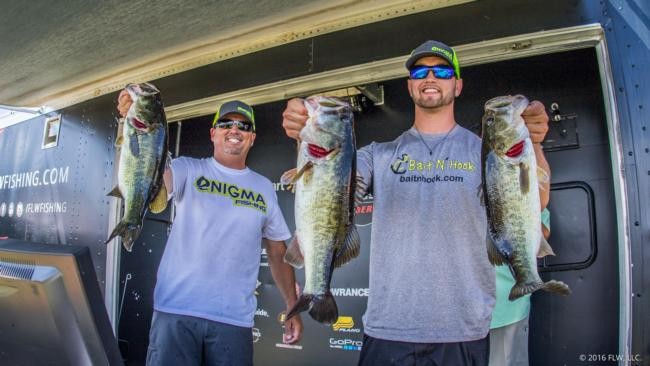 For this year's event sixty-two teams took off from Big Toho Marina on a warm muggy morning. Lake Toho greeted us with calm winds and hazy conditions. Our team consisted of Tuscaroran Pro-Lures Pro Norman Lee of Lake Placid Marine, Tuscaroran Pro-Lures representative and retired Pro John Pate, and myself. At first light we headed out to a cove on the eastern side of the lake where John had found some clear water and picked up a few bass the day before in our pre-fish. Fishing from the rear of the boat, John quickly boated a small 1-3 lb. bass on a Tuscaroran Tee Pee Stix. Using 10-lb mono line John kept away from most of the thick shoreline emergent cover and kept his search pattern along the edges of the submerged grass lines. Little did we know that would be our only fish of the day.
As the morning progressed each of us would have opportunities to add another bass into the well but none of them proved successful. My biggest hit came on a Tuscaroran Rude Frog where a nice 4-lb bass came up and struck my frog on its swimming legs but short of the hooks. I was casting over submerged eel grass when the strike came. I quickly followed up with a second cast and the fish showed some interested but then turned away. John immediately followed up with a toss of his worm but Mr. Bass showed no interest. After that quick little burst the day started to slow down.
After a while we left our little cove and headed out into the lake to try our luck on a shell bed but found it occupied by another boater. Still we maneuvered ourselves to fish the ledge of the channel but with little luck. Then we made a quick run to a nice island of hydrilla where we saw some action in our pre-fish but we came up empty once again. After that we returned to our cove but the heat of the day had already taken its toll on the shallow waters.
Being the tournament is a quick 4-hour shoot-out, we stated fishing our way back to the Marina and the weigh-ins. First we stopped at the end of a trail leading into the cove and made a few casts and then we moved onto the mouth of the Fish Lake Connector Canal which is a quick 5-minute run to the marina. In each of the locations Norm and John had some small hits on their Tuscaroran Tee Pee Stixs but nothing came into the boat. As time expired we only had that first early morning fish to show for our efforts.
In listening to fellow participants, those who did well generally stayed in a relatively small areas of the lake and did not venture far during the tournament. The old adage of 'when on fish, don't go moving to look for fish' probably rang true for us today.
The team of Jesse Tacoronte and Adam Santanoff representing Enigma Fishing took home top honors with a 5-fish weight of 17-2 lb. as well as Big Bass for a 5-13 lb. kicker. Second Place went to Gene Jensen, David Lefebre and Mark Modoski of the 13-Fishing Team with a 5-fish weight of 15-13 lbs. Third place went to the team of Stephen Labaw, Doug Chance and Gary Jennings representing Complete Custom Boats with a 5-fish weight of 15-11 lb.
Until next year, tight lines and give Tuscaroran Pro-Lures (www.tuscaroranlures.com) a try, they are a strong and durable and are available for fresh and saltwater.