Ice Fishing Safety and Equipment
By Richard Yvon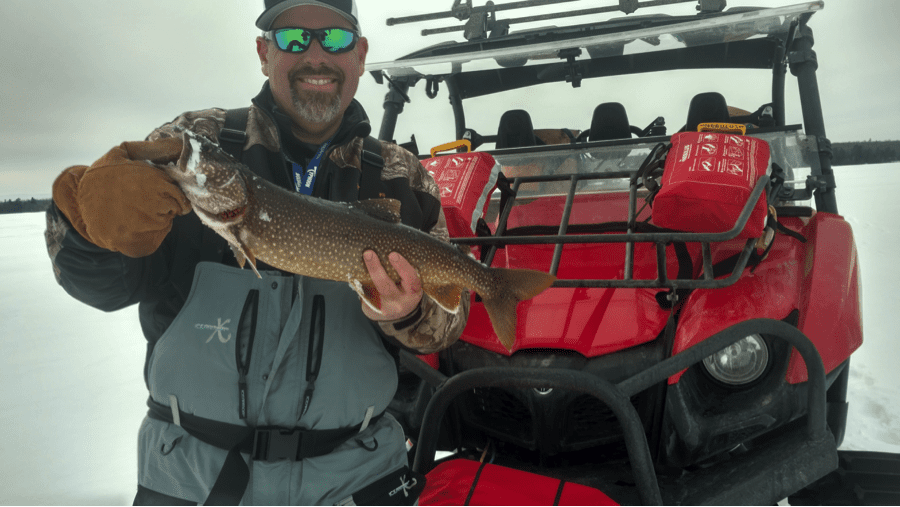 Being prepared for ice fishing is essential because…safety on the ice is no accident!
Unfortunately at some point you hear of the unthinkable of someone falling through the ice. The event most times becomes a search and recovery rather than a search and rescue. Fortunately this tragic story can for the most part be avoided but of coarse there are always accidents. A few tips will hopefully help keep everyone more safe and secure on hard water. As winter approaches, everyone is always itching to get out and wet a line with much enthusiasm and determination. As ice season comes into fold, the shoreline is first to freeze and therefore first to be fished. I always recommend to folks to check with local tackle shops and fellow fishermen if not familiar with the ice to be fished. Another option is to rely on a professional ice-fishing guide, as they will have the proper safety equipment, familiarity and know-how.
Checking the Ice is critical… You are about to step out onto the ice but you see no signs of previous activity, now what? The only way to check the ice is to make test holes with your auger or ice pick. Keep in mind that the shoreline typically freezes first on a lake or pond. So ice can get thinner as you venture away from shore. Study the ice color, clarity and conditions.
An approximate guide for blue, black or clear ice only
2" or less stay off ice
4" Ice Fishing/Ice Skating
5" Snowmobile or ATV
8"-12" Small Car or Pick Up
12"-15" Medium sized Truck
Note* – White or snow ice is about half as strong as new clear ice. Double the below thicknesses guidelines if you are traveling on white ice. Also, river ice is approximately 15% less strong as new clear ice.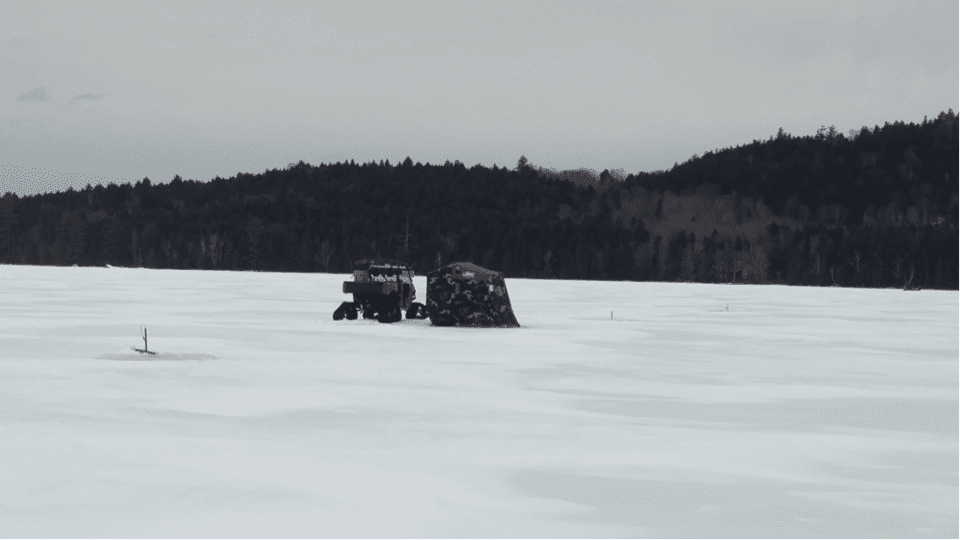 Tag Line Ice Fishing is not a new idea but I have adopted the idea in order to access ice where ice thickness can vary. If you are out on the first ice of the season and not sure of springs or ice thickness, then here is a technique that may help you stay safe. Working from shore you can affix a safety line to your fall gear or harness. Having a line attached to a permanent fixture on shore, you can go out and run your trap line. This way you have a safety measure in place to pull yourself out and or someone can help you out safely. This becomes even more important when fishing waters with current.
 Safety Equipment and supply's are essential for everyone on the ice. Here are  some examples…
First Aid Kit
Ice Shelter
Heater with CO safety shut off
Flare kit
Food
Water
Space Blanket
Throw Bag
Ice Picks
Communication (Cell or SAT phone)
Extra Clothes
Blankets
Thermal Suite with Floatation
Sleeping Bag with therma-rest
Cold Weather floatation thermal suite.
Nebulus or amphibious vehicle
The Nebulus floatation can be a lifesaver in many ways…
The system when deployed can give someone a life saving raft to get out of the water as well an equipment saver, which keeps equipment from sinking to the bottom of the lake or river. Retrieval is much easier having a tethered machine.
Every Maine winter can unarguably be considered unique. The weather has become more and more unpredictable and every year ice conditions can vary drastically. Typically February and March are the two best months for fishing large glacial lakes. Why? The northern lakes of Maine are so expansive that winds stubbornly keep ice from forming resulting in a late freeze up. There certainly other factors such as springs, river current, and snow cover and of coarse the obvious, air temperatures. My personal favorite time of year to ice fish has always been March due to the warmer sunny days and the safety of thickness of ice that has been forming all winter long. Nothing beats being able to fish on a calm, cloudy, mild March day! Those perfect days are far in between, but when we have them, they hold forever in our minds as we dream upon another year of ice fishing!