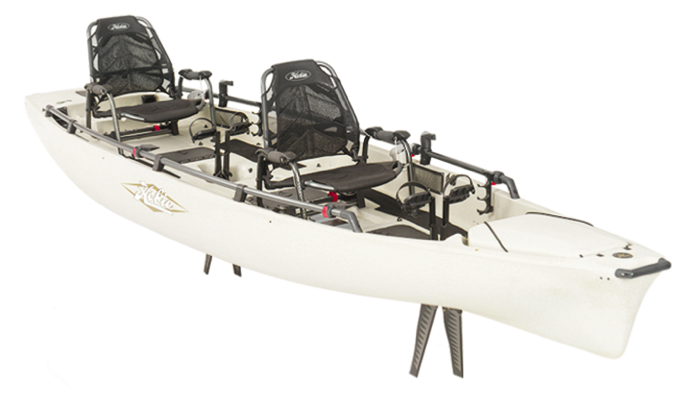 [dropcap]F[/dropcap]ishing out of one of Hobie's Pro Angler 12- or 14's is so much fun that Hobie is now making it possible for two anglers to share the experience in the same boat. Introducing the Pro Angler 17T. Three different configurations include traditional in-line tandem seating, face-to-face social tandem or solo, all with enough room for man's best four-legged friend…and with plenty of space for standing, casting and fly fishing in comfort.
This new Pro Angler 17T integrates all the features of its predecessors including Hobie's iconic patented MirageDrive® pedal system and Vantage XT seating and adds new features such as the H-Rail System for customizing accessories, a tracking skeg for covering long distances and a battery platform for an optional trolling motor, crate or small cooler. The result is like nothing else on the market. A human-powered 17' fishing machine. No gas needed, no-motor- zone compliant and made in the U.S.A. It does not get better.
"We challenged ourselves to expand our Pro Angler collection with a fully decked-out guide-style tandem where the aft passenger could provide MirageDrive power and put the front angler on the fish. We also wanted it to have the ability to hold an optional trolling motor for use as a bass boat," commented Doug Skidmore, president of Hobie Cat Company. "Our new Pro Angler 17T meets that challenge."
All anglers know that customizing their watercraft is a major part of ownership
fun. The new patent-pending twelve-sided H-Rail mounting system runs along each side of the boat and provides a quick and easy way to secure multitudes of accessories. Two-each H-Rail Mounting Plates, Rod Racks and Cup Holders come stock with the boat. An infinite number of optional accessories can then be added to the H-Rail such as tackle bins, fish finders, camera mount or rod holders.
The large rudder provides steerage and maneuverability while the new drop-down tracking skeg can be deployed when covering long distances in challenging conditions. An optional anchor trolley kit for anchors, drift chutes, nets or stakeout poles is easy to install using eight strategically placed brass inserts on each side. An optional Power-Pole® Micro with a customized Hobie mount can be added to the stern.
Two MirageDrives with adjustable Turbo Fins provide propulsion, leaving hands free for casting and catching fish. Two strong and breathable Vantage XT Seats ensure comfort with back, bottom, Boa® lumbar and kickstand height adjustability. They also can be easily removed from the boat for on-shore use. Storage for up to twelve rods, ten horizontally and two vertically, keeps them handy but out of the way. A large front hatch and liner offer easy access for storing fish, ice, food, clothing or extra tackle. The built-in Lowrance® Ready transducer mounting plate and pre-installed wire plugs make it quick and easy to install electronics. Three large rectangular hatches provide easy access to pivoting Tackle Management Systems and in-hull storage.
The Pro Angler 17T weighs 185 pounds fitted and 230 pounds fully rigged with standard features and has a 900-pound capacity.
Optional accessories designed specifically for the Pro Angler 17T include the new Livewell XL, Adjustable H-Bar, H-Rail Tackle Bin, RAM® Mounts, Trolling Motor Mount and Trailer.
Anticipated availability of the Pro Angler 17T is Fall 2014. MSRP: $5299
Since 1950, Hobie has been in the business of shaping a unique lifestyle based around fun, water, and quality products. From their world headquarters in Oceanside, California, Hobie Cat Company manufactures, distrib- utes, and markets an impressive collection of eco-sensitive watercraft worldwide. These include an ever-expanding line of recreation and racing sailboats, pedal-driven and paddle sit-on-top recreation and fishing kayaks, inflatable kayaks, fishing boats and stand-up paddleboards plus a complementary array of parts and accessories.