Billfish Season in Costa Rica has just begun!
Huge numbers of Pacific sailfish congregate along the Pacific coast of Costa Rica in December through March. This is the time of year when it's nearly impossible to not catch double digit sailfish every day. It's not uncommon to hear about visiting anglers cutting full-day charters short a few hours. There are only so many fights they want to pick with the billfish and sometimes, it's just downright cool to leave 'em biting.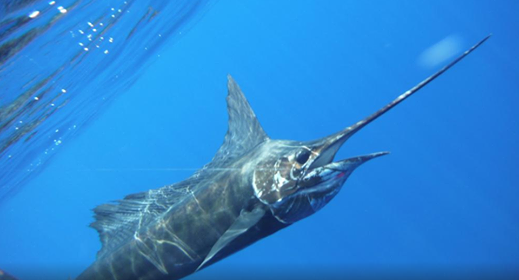 January kicks off our billfish tournament season. The first tourney scheduled is the third-annual Los Sueños Signature Triple Crown. The event is a one of a kind three-leg series. Leg one is Jan. 20-23, leg two is Feb. 24-27, and the final round starts on March 30 and ends April 2 with the crowning of the championship team. It is an impressive venue, and last year they posted record releases of 5,732 billfish.
The Quepos Billfish Cup, hosted by Marina Pez Vela, kicks off with a Captain's meeting and party on Feb. 3. The three-day event is open to anglers from around the world. Sailfish and marlin have found a home away from home right off the coast of Quepos. It's very common for releases of 20 or more to be documented by boats daily. Marina Pez Vela also hosts the Offshore World Championship. This tournament is scheduled to begin April 16. The week-long event includes four days of competition with an awards ceremony capping off the event on Saturday April 23. Teams from as far away as Alaska, Brazil, Australia, Bermuda and the Carolina's regularly sign up to compete.
Speaking of tournaments, there is a lot of buzz about Team Tranquilo. Ken Cofer, owner of the 57' Spencer "Tranquilo" has been on a roll. In 2015, his team has either won or placed in the top three of the 10 billfish tournaments he fished. His team racked up victories in Los Cabos Mexico, where Team Tranquilo won the Los Ca­bos Lil' Bisbee's and then immediately followed that up with a massive $2.5-million-dollar win at the Bisbee's Black and Blue. Cofer works hard at keeping his team sharp. He regularly fishes with the team and he offers the boat for charter (www.tranquilocharters.com). He emphasizes the importance of chartering as a way to keep his team always in rhythm.  "I assure all of our charter guests that you will not only fish with the same boat and team we use to win these tournaments, but I will also guarantee you that we will be using the same tackle and techniques we use when we are competing for a million dollars".
The billfish season is here in Costa Rica and looks to be very exciting. If you haven't experienced bill fishing like this, I encourage every angler to make the trip to Costa Rica to see what all the buzz is about. 
Tom Hauer is co-publisher of Coastal Angler Magazine-Costa Rica and can be reached at tomh@coastalanglermagazine.com.