International Women's Fishing Association – Miami & Islamorada Anglers Win Tournament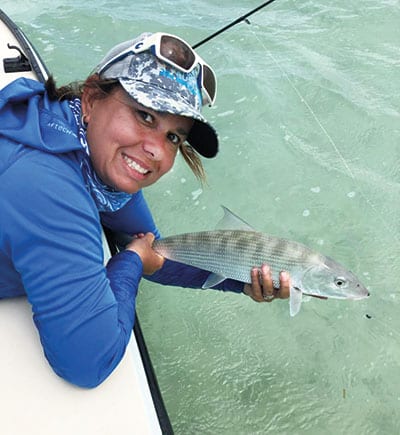 Members from the International Women's Fishing Association met at the Islamorada Fishing Club Sunday, October 21st for their annual Islamorada Backcountry Tournament Captain's meeting. Twenty-two women traveled from as far north as Wisconsin and some from Fort Lauderdale, Miami and Islamorada. The three-day tournament format where 2 different anglers fish together per boat with different local Keys fishing guides each day. This year tournament director Kim Clement added a new Fly Division where ladies that entered could only fish Fly tackle. Six ladies entered in this division with 3 designated local fishing guides that specialized in Fly fishing. 869 fish were caught and released throughout the three-day event. Anglers could only count 5 per species for scoring so more fish were actually caught and released making it to be some great fishing in the Keys!
The fishing was great each day where anglers fished the waters of Everglades National Park for Redfish, Snook, Tarpon, Seatrout, Tripletail, Cobia and other species and also fished the Islamorada area for Bonefish and Permit. Each day was a great day just being out on the water, as some of the ladies said "a day on the water sure beats a day at the office."
High Point Angler on day 1 was Islamorada resident Rebecca Strain scoring 1645 points fishing with Capt. Frankie Ortiz, with angler Lisa Everett on board scoring 1625 points. High Point Angler on day 2 was Fran McKelvey scoring 1300 points with Captain Richard Black. High Point Angler Day 3 was Miami resident, Carmen Perez-Padron, scoring 1795 points fishing with Capt. Frankie Ortiz. Carmen was in 4th place by Day 3 but her strong finish scoring 2 additional slam bonus points sealed her overall tournament win as the Grand Champion in the Spin Division.
Fly division honors went to Islamorada resident Jennifer Parker for 3rd place, Fort Lauderdale resident Jing Torn who finished in 2nd place and Islamorada resident Shandra Rummel with the 1st place win.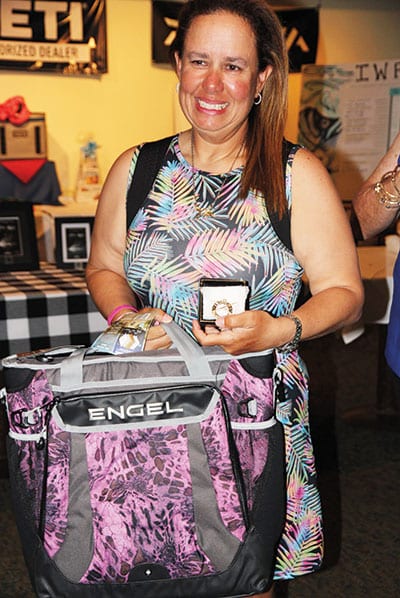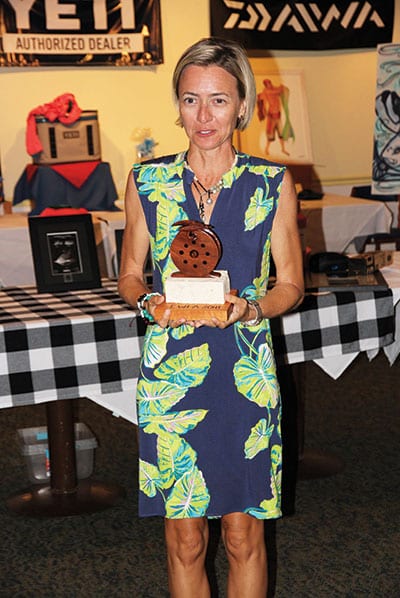 1st Place Team Lisa Everett, Rebel Caplinger, Judy Axelrod
2nd Place Team Jennifer Parker, Fran McKelvey, Pam Marmin (TIE for 2nd Place)
2nd Place Team Shandra Rummel, Rebecca Strain, Maggie Brown
Newcomer Award – Mary Parker Weingart from Wisconsin
Spin Champion – Carmen Perez-Padron
1st Runner Up – Fran McKelvey
2nd Runner Up – Rebel Caplinger
First Place Guide: Capt. Charlie Tindall
Second Place Guide: Capt. Steve Thomas
Third Place Guide: Capt. Lincoln Rodriguez
Fly Champion – Shandra Rummel
1st Runner Up – Jing Torn
2nd Runner Up – Jennifer Parker
First Place Guide: Capt. Frankie Ortiz
Second Place Guide: Capt. Richard Black
Third Place Guide: Capt. Dave Denkert
The IWFA is an organization founded in 1955 by women who had the desire to fish and compete amongst themselves. The IWFA promotes female angling through competition, comradery and conservation. For more information, please visit the website at IWFA.org