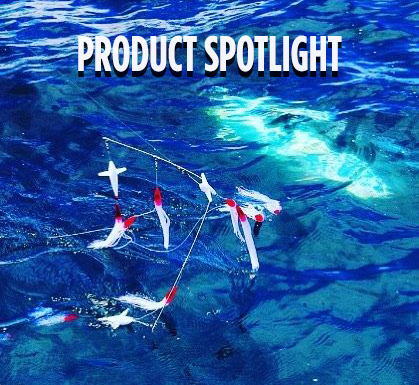 By Jake Curley, Owner of JC's Offshore Tackle
January Product Spotlight: JC's Resin Head Machine Bird Bar
JC's Resin Head Machine Bird Bar is a 36" titanium bar rigged with thirteen 9" machine lures. The JC's center chain is rigged with 200lb mono with a 350lb snap swivel. The JC's Stinger is a 12" lipstick machine rigged with an 8/0 Mustad big game hook. All of the stingers are stiff rigged with shrink tube to keep the hook position true while trolling.The JC's Resin Head Machine Bird Bar is the best choice option for catching bluefin, yellowfin and big eye tuna using 50-80 wide set-ups. The JC's Resin Head Machine Bar in rainbow is our top seller and most productive bird bar. To learn more about this product, visit JC's Offshore Tackle site as well www.jcsoffshoretackle.com.
If you want a chance to use this product and catch tuna, book now with Jakamo Sportfishing for the upcoming season at www.jakamosportfishing.com.
Contact Jake Curley, Owner of JC's Offshore Tackle in East Falmouth, MA at 978-460-4932 or www.jcsoffshoretackle.com.