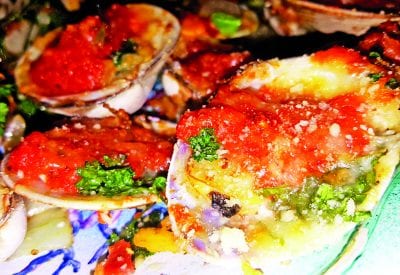 by Jim Baugh, Jimbaugh.net, Jim Baugh Outdoors TV
February was an action packed month that included the debut of the Tideline 365 Offshore Catamaran at the Miami International Boat Show. Also, last month we made a return trip offshore for the last weekend of Sea Bass fishing. Both are incredible stories that will be told in the April issue of Coastal Angler so stay tuned!
When it comes to seafood, we have many favorites. However, the Eastern Shore clam is our top choice. Over the years we have prepared clams many ways and even produced features on Jim Baugh Outdoors TV on harvesting clams and scallops from Hatteras NC. Whether steamed or fried, it is just hard to beat the almighty clam.
Years ago while entertaining in Atlantic City performing close up magic, I first learned how to make clams casino. Since then, clams casino has been a part of our family celebratory recipes that we always make during any holiday (or whenever we get fresh clams). In fact, just last month I came across some 200 Eastern Shore and promptly made a trip to the grocery store to pick up everything needed to make the casino. Life is good!
Not long before I discovered that treasure trove of clams, I had made Sunday gravy. Yes, the real deal, and it took me over 10 hours to make. That gave me the idea to make an Italian version of clams casino, and man was it fantastic! I don't know if this recipe has ever been published before, but it sure is a winner. A must try!
RECIPE
This recipe starts with either a good store bought marinara or some leftover Sunday gravy. You will also need some good parmesan, fresh clams, fresh garlic, fresh Italian parsley, and whole milk motz.
First, get a steaming pot and bring three cups of water to a boil. Add your clams and steam just until they begin to pop open. Next, remove the clams from the steamer and set aside.
Using a large sheet pan, take each clam and break apart the top half leaving the clam in the bottom half of the shell. Fill the pan with clams and sprinkle some fresh crushed garlic over the clams.
Now take the parsley and chop it up fairly fine and place a small portion over each clam. Next take a teaspoon and put one spoonful of marinara on each clam topping it off with a good dose of parmesan.
Heat your oven to 375, and then place the tray of clams in the oven and heat until the parmesan begins to melt.
Next shred up the motz, remove the tray from the oven and place a portion of cheese on each clam then set the oven to broil.
Broil off the clams until the cheese has melted.
That's it! A totally awesome dish you will love!
.