By Cam Staff
The gripe came from up on the poling platform, "You won't see any fish when you're sitting in the boat blasting Garth Brooks."
Maybe tarpon on this particular stretch of the Florida coast don't like country music. Or maybe it had something to do with the sound system, which was garbage. Over the wind and waves, the noise rattling from the speakers was barely discernible as music, so we turned it off… and didn't spot the first fish through an 8-hour day on the water.
It's during slow trips like these when good tunes are most important. Th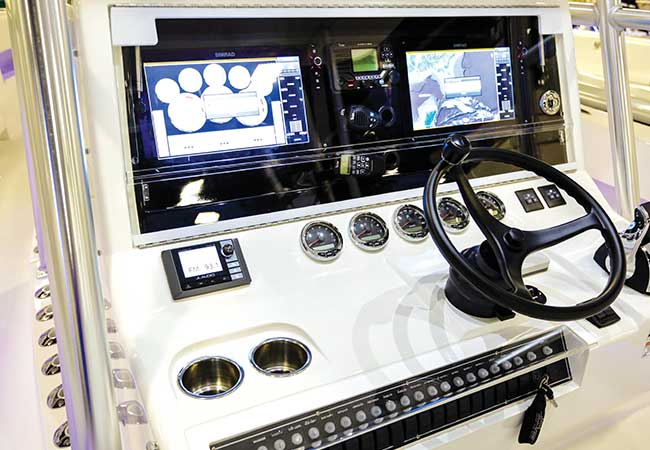 e songs become the soundtracks to our adventures. That's why you owe it to your fishing buddies to have a good sound system on the boat.
When it comes to sound quality, there isn't a company out there better than Miramar, Florida's JL Audio. Since the mid-1970s, when co-founders Lucio Proni and Jim Birch built speakers during summer break from college, the company has grown into one of the most respected audio brands in the world. JL Audio stepped into the marine market in 2005, and in 2016 they introduced the MediaMaster 100 (MM100), which quickly became the high-end source unit of choice for boaters who really care about sound quality.
The source unit is where it all starts. It's the head unit that receives input from your music-playing device and channels it through the amplifiers to the speakers. The source unit is also the dashboard where you control it all.
Off the bat, it was apparent JL Audio had designed an exceptional unit, built to stand up to the rigors of sun and salt with all the features expected of a modern sound system. Already known for producing marine amplifiers, speakers and subwoofers of superb quality, JL Audio now had the final piece for a full marine sound system. It was an important step for a brand that values audio quality above all else.
"There is nothing else in the marine market like it," said Alan Wenzel, JL Audio's VP of business development and strategic planning. "Others may have operating systems with more bells and whistles, but their sound doesn't come close to ours."
Boaters appreciated the sweet, crisp sound pumping at 4 volts through the RCA jacks. The signal is noticeably clearer than the industry-standard 2-volt output. And the unit's excellent control flexibility allows for a wide range of zone configurations, which is critical to overcoming the ambient noise of the marine environment.
Modern source units are expected to provide connectivity with a host of different devices, and MM100 does this with Bluetooth and USB as well as an analog auxiliary input, so you can even plug in a tape deck and play your old Grateful Dead bootlegs if you want to. The unit is SiriusXM ready and includes a built-in AM/FM/Weatherband tuner. It is also NMEA 2000 certified, which means it will communicate with compatible multi-function displays from brands like Simrad, Lowrance, Garmin and more.
The physical design of the MM100 is what you would expect from a top-of-the-line piece of marine equipment. It looks cool, and it's intuitive, with a bright, full-color LCD screen and large, backlit controls that are easy to use while in motion. There's even the option to add remote controls.
What JL Audio launched in 2016 remains the best sounding source unit available. A long list of high-quality boat builders jumped on board to install JL Audio systems standard.
"The premier brands are the ones we wanted to partner with," said Wenzel, "especially the ones that are really conscious of the quality of their product."
The MM100 is a high-end unit designed to drive high-end systems for the kind of control, sound and power demanded by audiophiles. And the price point reflects that. Soon after the release of the MM100, Wenzel said customers began asking for a source unit with built-in power and a more mainstream price point. Not everyone needs to hear the triangle ping in Vivaldi's Four Seasons across the deck of a sport fishing yacht.
In response, JL Audio engineers developed the Media Master 50, which becomes available on the retail market this month. By trimming a few of the bells and whistles off the MM100, JL Audio engineers developed a source unit that has all of the sound quality of its top-of-the-line unit, but on a smaller scale, perfect for boats that can get by on two sound zones instead of four.
With built-in amplifiers capable of producing 100 watts of high-fidelity output, the MM50 is also NMEA certified and compatible with most everything the MM100 is. And like all JL Audio products, accurate sound reproduction was the No. 1 focus in its design.
Wenzel said JL Audio would never release anything that doesn't meet their stringent criteria for sound quality and durability in the marine environment. This attention to quality is what built the JL Audio brand.
"Because we are a true audio company, we know a lot about audio reproduction," he said. "We do everything we can to exceed the standards. We do thousands of hours of listening testing as well as environmental testing before anything is manufactured."
While most audio companies farm out their designs, JL Audio has dozens of electrical and audio engineers on staff. Their marine speakers, assembled at their Miramar headquarters undergo 2,000 hours of salt and UV testing in onsite environmental chambers, which is four times the industry standard of 500 hours.
JL Audio caters to boaters who value sound quality in an onboard sound system. With the MM100 and the MM50, the company now offers the source unit to run the highest quality JL Audio sound systems for any size boat or budget.
For more information, visit www.jlaudio.com.