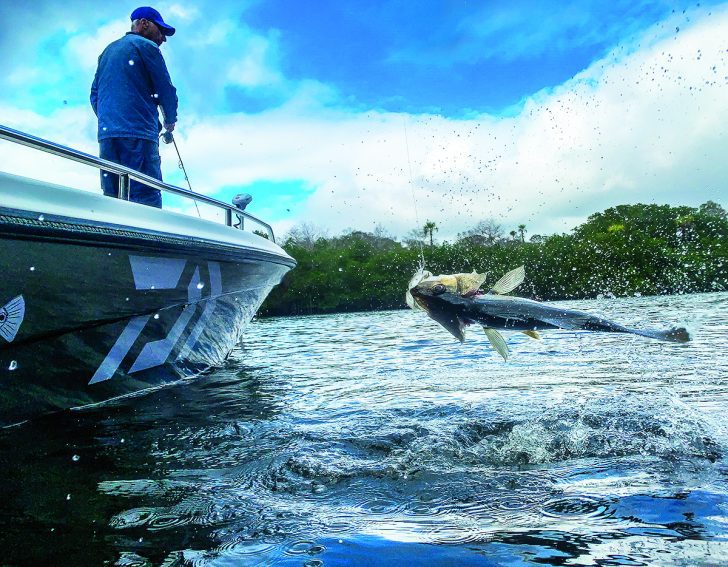 By Craig Korczynski, Contributing Writer
Spring into April! The inshore fishing in Palm Beach County becomes very exciting as the spring mullet run begins along beaches and inshore waters.
Targeting snook? Start at docks, sea walls and mangrove shorelines for best results. Sunrise provides great action with Topwater Rapala Skitter Walks. Mid-day switch to a D.O.A. C.A.L. 3 inch Shad in glow / gold rush belly or D.O.A. 5 inch Swim Bait in Arkansas glow. The sea walls and grass flats are great areas to find snook laid up ambushing bait schools, be sure to stay quiet and look for bait schools or snook crashing baits.
The tarpon will be active and seen rolling on the surface, sunrise and sunset are the best times to target them. D.O.A. Bait Busters in pearl / black back and D.O.A. C.A.L. 4 inch Jerk Baits in mole' color and glow / holographic glitter get the silver kings excited. Live bait for tarpon will get the drag screaming, free line or slow troll baits along mangrove shorelines and drop-offs for consistent action.
Anglers looking for drag screaming rod bending action, target jacks along seawalls and grass flats. The jacks school together ambushing schools of live bait in their vicinity. Rapala Skitter Walks and D.O.A. PT-7 Weedless Topwaters work great for the jacks. If artificial lures are not your choice, live mullet and greenies will also produce action. Freeline baits with tide or near any structure for best results.
Captain Craig Korczynski
561-644-4371 • phlatsinshorefishing.com