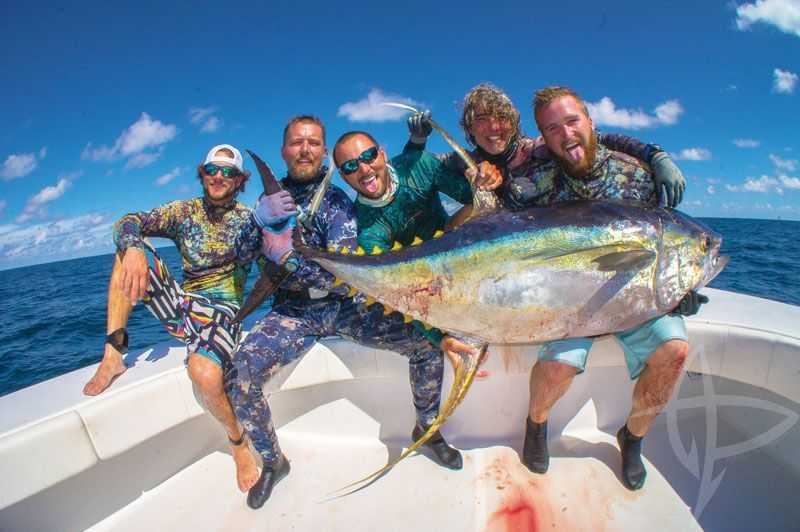 Editor's Note: Recently CAM New Orleans Pro Staffer Capt. Brett Ryan took part in a spearfishing trip out of Venice, La., where the team had an absolutely unbelievable day on/in the water. Of six fish in an afternoon, two are in the top 10 for the largest yellowfin tuna ever speared by free divers in Louisiana. The following is his recounting.
We embarked on a weekend-long dive trip off the coast of Louisiana to celebrate two of our friends' birthdays by hunting monster yellowfin tuna. After two days of only seeing a handful of yellowfin, day three was the day. As our clan cruised up to a spot, we did a toast to one of our friends who passed away earlier this year. Kind of feeling like this was where we needed to be, we went to work.
I cannot begin to explain what it takes to accomplish days like this other than, without teamwork, it can't happen. Safety is No. 1 when fishing, diving and spearing big yellowfin tuna. I do not offer dive charters as a business because it is so dangerous. I am an accomplished diver, and so are all of my friends who were on board.
Of the six fish harvested that afternoon, two of them are now in the top 10 for yellowfin speared by a free diver (not assisted by SCUBA) in the state of Louisiana. The No. 7 spot went to Blade Henry, of SouthernStoners Spearfishing Club, at 138 pounds. Whit Carden claimed the No. 3 spot with an 180-pound yellowfin tuna.
Whit spent about 90 minutes in shark-infested water wrestling his beast to the surface. I kept the boat close enough to Whit for safety as his yellowfin dragged him around the Gulf of Mexico fighting for its life. Whit won the battle, and we all had one of the best days on the water celebrating our lives and friendships.
Brett Ryan is an offshore charter captain out of Venice, La. See his website at www.captainbrettryan.com.