RiverLink has officially adopted the Karen Cragnolin Park Master Plan that will mark the next step of progress in transforming a junkyard into a public park. The design team was led by an internationally-recognized firm, Nelson Byrd Woltz Landscape Architects, and team members and local contractors, Anchor QEA, Equinox Environmental, and Samsel Architects. The process to reach a Master Plan took seven months and included a public engagement event on the future park site at 190 Amboy Road and an online survey opportunity to receive input. In late October 2018, the public was invited to see the draft master plan and photos of what the park will look like from various perspectives on the site.
The next steps in the process will include planning for a capital campaign to raise the funds to construct the park and later maintain it as a beautiful attraction along the Asheville Riverfront for future generations. There will also be ongoing remediation activities to bring all of the soils within regulatory limits over the next year in 2019.
"I think the mission of RiverLink is so closely tied to the mission of our firm in honoring the culture and ecology in our cities. In particular with the commitment to the public realm. I think the commitment that these are free open places for all citizens really resonates with our mission."

-Thomas Woltz
Transforming a Junkyard into a Public Park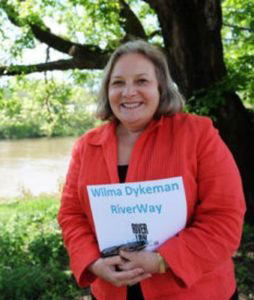 The 5.33-acre tract of land in the French Broad Park corridor was acquired by RiverLink in 2005. The property had previously been operated as an auto junkyard over a span of 50 years, and has since been remediated to the state of an open space, fenced property. The tract is located adjacent to the French Broad River on the south and is bounded by Amboy Road on the north. A concrete sidewalk was installed on the Amboy Road edge, and there is a drainage way called Moore's Branch located on the western boundary, separating the subject tract from Carrier Park and its concrete trail system.
Because of her role in the revitalization of the urban corridor along the French Broad River, the RiverLink Board of Directors designated the park "Karen Cragnolin Park" in recognition of what was then her 25th anniversary as Executive Director. Karen retired in August 2016, but continues to be a source of inspiration for our community. It is her bold vision that is beginning to transform Asheville's Riverfront into a nationally-recognized destination for recreation, the arts and culture, and thriving businesses that depend on clean water. RiverLink is at a closing point in the process of getting a brownfields certification from the state for the subject property, and will be taking the necessary steps to raise the funds to construct the park on the 5.33-acre park tract within the French Broad River Park system.
For more information visit riverlink.org/our-work/current-projects/karencragnolinpark.