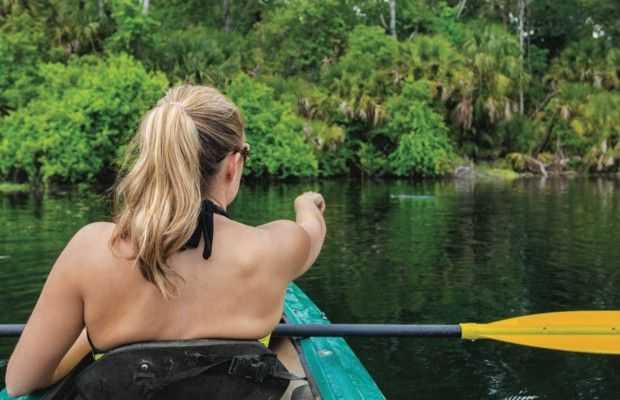 Picture this; a 14 foot kayak, 7 ½ foot rod, and a 100 lb Tarpon. To some that combination is just down right crazy but to others it's an experience that will last a lifetime. This is exactly what happened to me recently in Charlotte Harbor. After fighting the fish for nearly an hour, I was able to successfully release the fish and to reflect on what I accomplished and what I learned.
Some people kayak creeks, some kayak extreme white water, and yes, some people fish in the ocean from kayaks. One thing all kayakers can agree on is kayaking can lead to a healthy life style. As sweat poured down my face and my heart rate slowly came back to normal, these thoughts came to mind.
First thing, which is obvious to most people, when it comes to any paddling sport, it takes a degree of physical strength and mental toughness. Paddling is a resistance strength building activity and it can be as strenuous as you like. The faster you paddle and the more resistance the water puts forth in current, waves, and tide, the more energy you will expend. Or you can have a relaxing, stress free time floating down a slow moving river or drift softly across a lake by a cool spring breeze. You can burn 400 calories per hour or just a few, the choice is yours to make.
Maybe you're interested in just working on your tan. I know, I know, the Florida sun can be evil causing skin cancer, but hear me out. Studies have shown that vitamin D which you get from sunlight promotes healthy bones by promoting the absorption of calcium. Also, there has been mounting evidence that low levels of Vitamin D increase the risk of Type 1 diabetes and cancers of the breasts, colon, prostate, just to name a few. Vitamin D coupled with a stress free environment and moderate exercise will also help you lower your blood pressure. Still with all these benefits, don't overlook the benefits of covering your skin, wearing a wide brim hat, a good pair of polarized sunglasses and the application of sunscreen because excessive UV radiation is still bad and yes, the Florida sun can be evil.
Kayaking will help improve your mental state by allowing you to overcome fears and gain confidence. I know I am less afraid today of the critters I come in contact with on the water than I was before I started kayaking. I see them in their natural environment and have a much better understanding of their behavior. I have kayaked as much as 25 miles in a day over a 10 hour period. I can say this, my confidence has greatly improved since I now realize I can complete such a challenge and have little fear of my surroundings.
As a retired Marine, I can honestly say that kayaking can change your life. It helped me rid myself of pent-up stress and allowed me to look at life with more confidence. I find the outdoors much more enjoyable from a kayak than I did speeding past in a boat. So, can kayaking change your life? Well, I sure think so because it changed mine.
So, take the time, find yourself, and go yaking
Rent or buy, but give it a try. At Under Pressure Sports / GS Outdoors, located at 5621 U.S. Hwy 27 N, Sebring, FL 33870, you'll find many different manufacturers and models of kayaks to choose from. So whatever your need, whether angling or just exploring, you'll find the model best suited to your needs.