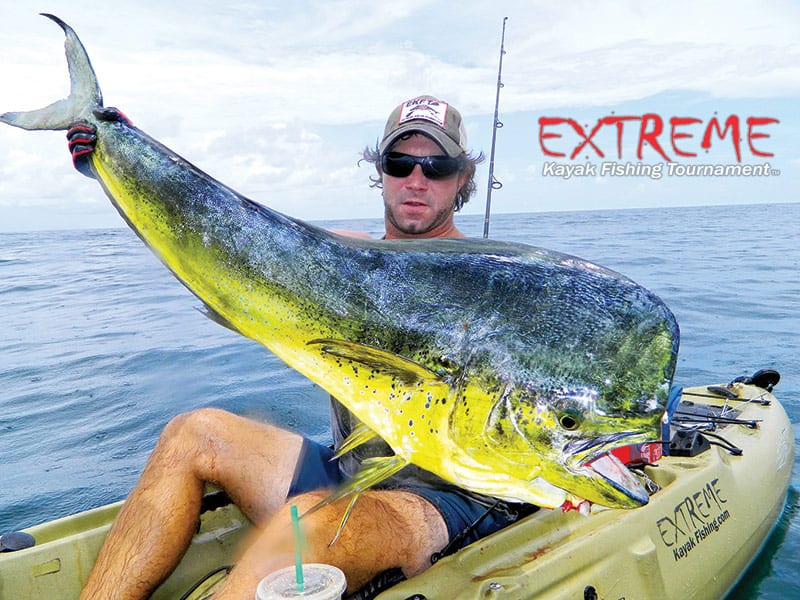 The month of December means Sailfish in Pompano Beach. It's still early for the big sailfish pods, but they are starting to come through. You can bet on catching them in 60 to 200 feet. Most of the time I will catch a nice sailfish when we are heading out off Pompano Pier in the morning in shallow depths around 70 feet. Fishing over the deep wrecks will also produce some nice sailfish. For kayak anglers without a GPS just look for the charter boats and you will find them.
Some nice kingfish are being caught straight out from the mouth of Hillsboro Inlet in 70 to 120 feet of water. Some of the kings are topping 30lbs. The rat kingfish are scattered in 60 to 80 feet. Try putting a live goggle eye down deep with a downrigger or an egg sinker. Most of my bites have been in medium depth on the slow troll.
You can still catch some scattered blackfin tuna over the deep wrecks in 180 to 200 feet. Lots of dolphin have been caught right out front in Pompano Beach. The schoolies are being caught from 200 to 300 feet with the bigger dolphin finally coming through in 180 to 200 feet. Some 20 pound plus fish are being caught in the afternoon. Traditionally, the afternoon bite in general has been good for me in December. The deep wrecks are still producing the monster amberjacks. Try dropping a glow jig or a tiger striped Jimy Jig as they seem to work best for me. Send a live goggle eye down deep for a shot at a wahoo on the new and full moons.
The beach fishing has been hot early in the morning. Right at first light we are catching some nice ocean snook and jumping some monster tarpon. Stealth is the way to go for getting the hook ups. Try using 40 to 50 pound mono leader with a tiny swivel and use a 3/0 circle hook. Make sure the hook is sharp! A live pilchard is the bait of choice.
Stay safe when kayak fishing offshore and make sure you have all your safety gear like a safety flag so boats can see you, personal flotation devices and a VHF radio. The Sailfish Smackdown is the next Extreme Kayak Fishing Tournament and is right around the corner, taking place January 27th and 28th.
For more information on this amazing, one of a kind event go to www.extremekayakfishing.com.
Joe Hector
954-895-4527
Extreme Kayak Fishing Inc.
www.extremekayakfishing.com
[email protected]