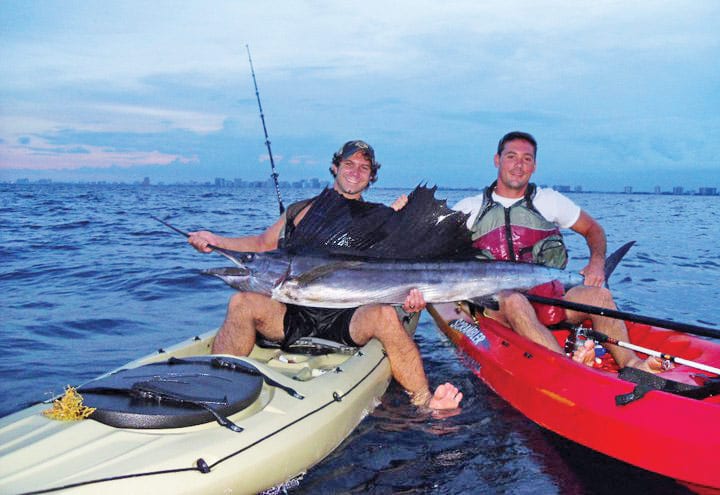 With the many cold fronts coming through South Florida this time of year, kayak anglers have to pick and choose their fishing days wisely when going offshore. However, if you can get out there, on the right day, you're in for a treat.
In February, sailfish start making their way through Pompano Beach in pods of hundreds. Finding the right depth is key when trying to find these pods, thus hoping for multiple hook ups in the right areas. For me, the prime depth for targeting sailfish is a range from 60 to 200 feet. Always look for that color change where the blue water meets the green water and fish along that line. When targeting these species, my rig is fairly simple and the key for me is being stealthy. Make sure your reel holds at least 300 yards of line. I like to tie line directly to the leader or use a very small, but strong swivel. I'll use 5 to 6 feet of 40 pound fluorocarbon leader tied to a 3/0 to 4/0 circle hook.
Schools of mahi mahi will be in kayak range off Pompano Beach, straight out from Pompano Pier in 120 to 250 feet of water. Again, look for the color change and weed lines as well as flying fish. Lot's of schoolie dolphin have been found around 190 to 200 feet of water around the color change. A stud mahi mahi weighing 50 pounds was recently caught off Pompano in 135 feet of water which is exciting news for all kayak anglers trying to get this fish off their bucket list.
The occasional wahoo is being caught on an outgoing tide straight out from the Hillsboro lighthouse in 190 feet of water on downriggers. Recently, a kayak angler pulled in a nice 40 pound Wahoo on a downrigger, slow trolling using a live goggle eye with a stinger rig in that depth.
Some nice kingfish, with the occasional 30 pounders, are being caught in 90 feet of water. Most of the kings are being caught peddling or paddling in a zigzag pattern from 80 to 120 feet while slow trolling.
Catch the fish of a lifetime during the popular sailfish run in Pompano Beach, Florida. Do it in the most fun, safe, and competitive way possible by registering for the second leg of the Extreme Kayak Fishing Sailfish Smackdown series scheduled for April 7th and 8th, 2018. Remember to follow us on Instagram @extremekayakfishing for amazing kayak fishing photos, videos, podcasts, magazines and tournament information.
Joe Hector
954-895-4527
Extreme Kayak Fishing Inc.
www.extremekayakfishing.com
[email protected]