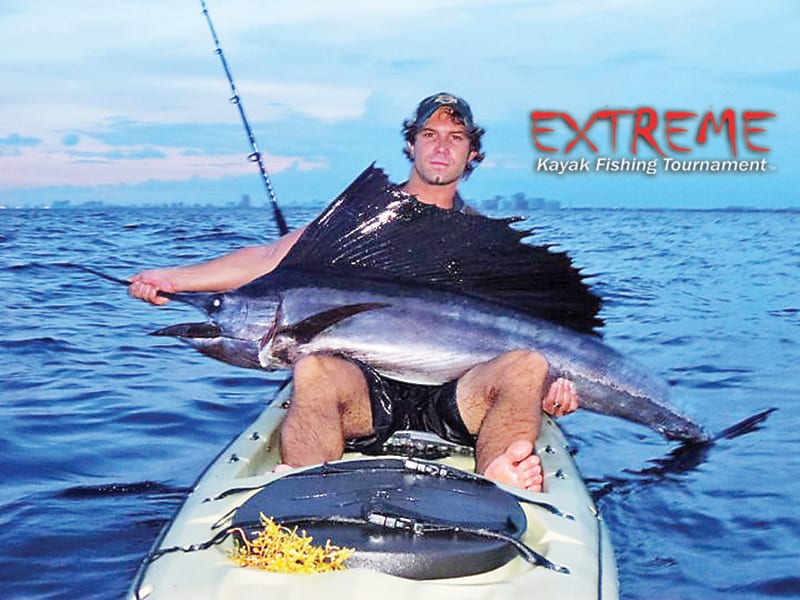 In January, pods of sailfish start moving through in depths ranging from 60 to 180 feet of water. On the right days in January, I will get multiple sailfish hook ups. My choice of tackle for catching sailfish from the kayak is very simple. I use 30-40lb monofilament or fluorocarbon leader attached to a 3/0-4/0 circle hook. I like to go stealthy on my gear when targeting sailfish. Make sure your reel can hold at least 300 yards of line. These fish are one of the fastest fish in the ocean and can make strong runs when on your kayak. My target depth is from 80-150 feet of water and I like to slow troll a live goggle eye on an outgoing tide, straight out from Pompano Pier.
Big schools of mahi mahi will be running through Pompano Beach in the winter months. What's great about fishing for dolphin in the winter is those east winds blowing these fish in close range for kayak anglers. I will always catch 10-20 pounders in 180-200 feet around weed patches in the month of January. Look for the weed lines and color changes and fish along those areas. My choice of tackle for mahi mahi is the same as for catching sailfish. Sometimes I will throw a stinger rig on when fishing along a weed patch. The occasional wahoo will be swimming either beneath a school of dolphin or up and down the weed lines.
Snapper and grouper fishing is always great in January one to two miles offshore. I have caught snowy grouper around the deep wrecks in around 200 feet of water off Pompano Beach. I'll use a 4 to 5 ounce egg weight depending on current, with 15 feet of 40lb monofilament leader attached to a 3/0 circle hook, with a juicy pilchard or goggle eye. I tend to prefer using pilchards when fishing for grouper and snapper. You will also get the occasional amberjack or mutton snapper when fishing over those deep wrecks. For anglers wanting to target amberjacks or the occasional grouper while jigging, try using my preferred colors of glow green and yellow or tiger striped orange and silver. Jimy Jigs are my favorite.
The Extreme Kayak Fishing Tournament Series begins this month, starting off with the Sailfish Smackdown scheduled for January 27th and 28th, 2018 in Pompano Beach Florida. For more information go to www.extremekayakfishing.com.
Joe Hector
954-895-4527
Extreme Kayak Fishing Inc.
www.extremekayakfishing.com
[email protected]