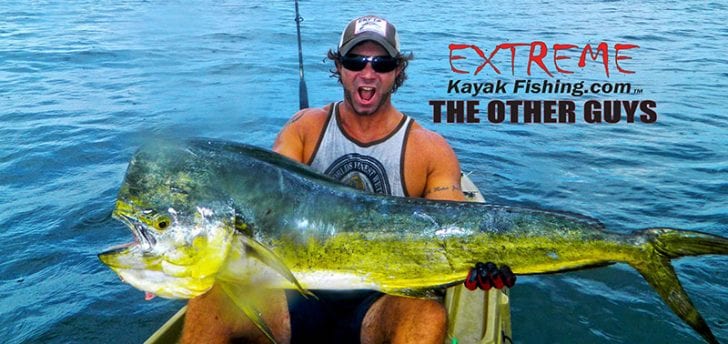 January is what created the Extreme Kayak Fishing name. This time of year the fronts start blowing through South Florida, creating excitement, cooler weather, waves and sailfish.
Sailfish in January start coming through in big pods. Kayak anglers don't need to go out far to find these awesome, acrobatic fish. I usually head out before or right after a cold front when the weather calms down and the surf is more accessible to launch offshore. I paddle or peddle out to 60 to 120 feet of water and zigzag in and out of those depths slow trolling a live gog or pilchard. Try slow trolling around the 3rd reef or some deeper wrecks for maximum sailfish action. Also look for free jumpers while trying to find your depth. Usually the pods are all in one depth. I take a 5 gallon bucket with a aerator and either a ½ dozen gogs or a dozen pilchards. My setup is simple for live baiting for sailfish. I use a Shimano Baitrunner with 30lb braid connected to a 40lb mono leader with a 3/0 circle hook. I usually tie line to line, but if you go with a swivel make sure it is tiny.
The mahi mahi fishing in January is also super hot, with winds blowing these beautiful fish into shallower depths, which is more accessible for us kayak anglers. Try fishing around the deep wrecks from 180 to 250 feet of water. Look for weed lines and color changes and try to stay along that line for that monster hit. In January, there should be some nice schools of 10 to 20 pounders around the weed lines. If you find a nice school of smaller dolphin try dropping a jig below the school for a nice wahoo surprise.
During the moons in January, I've caught some solid Wahoo around the inlets on an outgoing tide. I've caught them as shallow as 160 feet of water off the inlets. I always rig with 30lb braid to a 50lb mono leader to 8-10 inches of wire with a 3/0 to 4/0 J-hook and a very important stinger. Make sure when you rig your gog that there is slack on the stinger so that your bait swims freely.
Get ready for the 2019 Sailfish Smackdown taking place in Pompano Beach January 12th and 13th. Join us for the kickoff party at Brus Room in Pompano Beach on January 11th from 5pm-8pm. Everyone is invited to take part in our HUGE raffle benefiting the Broward Children's Center. To find out more about the tournament or raffle visit www.extremekayakfishing.com.
Joe Hector
954-895-4527
Extreme Kayak Fishing Inc.
www.extremekayakfishing.com
[email protected]