By Mark Adams
Much has been written about the best bass lakes in the country and they all include one of the biggest and most diverse, Kentucky Lake. Spanning from Kentucky through the entire state of Tennessee, this lake has it all, from accessibility of ramps to tremendous fishing to small towns dotting the shorelines with charm and hospitality. It is truly an outdoorsman's paradise and a great family retreat. There are marinas up and down the lake to meet the needs of any visitor as well as cabins and chalets to rest in between trips to the water. The towns embrace the great fishery they have and it's obvious that the community welcomes its visitors who want to experience what it is like to fish here. Every year the biggest tournament trails come to visit, showcasing the lake's potential and bringing attention to this great fishery. However you don't have to be a pro to unlock Kentucky Lake. It truly is a lake where you can fish to your strengths and use your favorite techniques, with your next cast capable of producing that bass of a lifetime.
There exist three distinct areas of the lake; New Johnsonville to the south, Paris in the middle and Kentucky Dam at the top of the lake. These areas are all very different in the types of cover offered to different species but the main areas you are seeking will be similar. The Northern end of the lake has a cleaner bottom without the heavy matted grass found to the south. The creeks and pockets have quite a bit of buck brush while the river and creek ledges have mussel beds. The middle of the lake is a combination of the southern and northern areas; there are grass beds as well as clean river ledges. Some of the biggest creeks are located in this section of the lake. Creeks, like Big Sandy, are often as big as most lakes people get to fish on at home. As you move south the grass becomes more prominent with a mix of milfoil and hydrilla. At its peak, the grass will come all the way to the river ledge and make for some fantastic frog fishing. Once you pass New Johnsonville, you hit the section of the lake that is more riverine with creeks feeding into it with a lot of sloughs and shallow backwater areas.
Kentucky Lake is known as a ledge fishing lake during the summer; it is the predominant pattern on the lake and most times that is synonymous with a deep crankbait, heavy jig or worm. Alternatively, during the same time of year you can throw a buzzbait and catch topwater bass all day or swim jigs around docks to land a lunker largemouth bass. If you like to finesse fish, luckily, a dropshot and shakey head will also get them to bite. What determines your techniques will be the time of year, where you are located, and what you like to cast.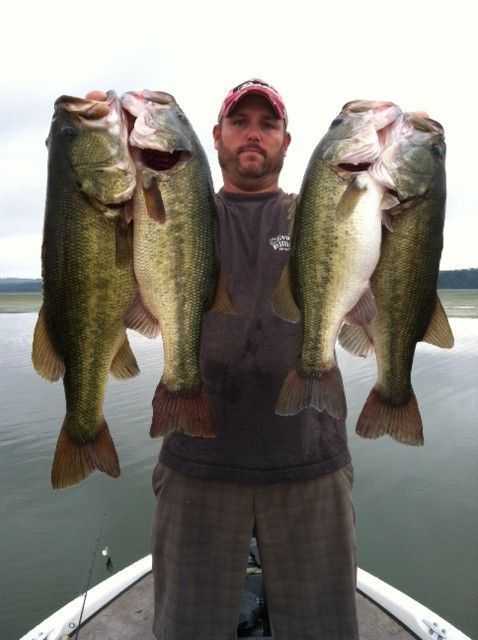 A great fishery is distinguished by the relative ease with which a newcomer can catch fish. Kentucky Lake, renowned for crappie, shell crackers, bluegill, and the thriving bass population, produces for the novice to the most experienced fisherman. In the fall, our local Tennessee lakes experience water fluctuations and turnover that can make the bite iffy, yet Kentucky Lake still produces even in these times of transition. I have fished all over the country at lakes like Guntersville in Alabama, Toho in Florida and Lake Champlain in New York, and by no means are they equal to Kentucky Lake in its ability to fit into your strengths as a fisherman. I choose to fish here whenever I have some free time because of its vast potential and its willingness to let me fish the way I want to and be successful. I hope you take a trip to Kentucky Lake and see for yourself the resource and fishery it is as well as enjoy the people and hospitality that the communities deliver.
Adams Guide Service is Nashville's Premier Fishing Service for Old Hickory, Percy Priest, Center Hill, Kentucky Lake, and other Middle Tennessee Waters. Come reserve your day by visiting www.adamsguidesvc.com, email at mark@adamsguidesvc.com, or call (615)829-3902.