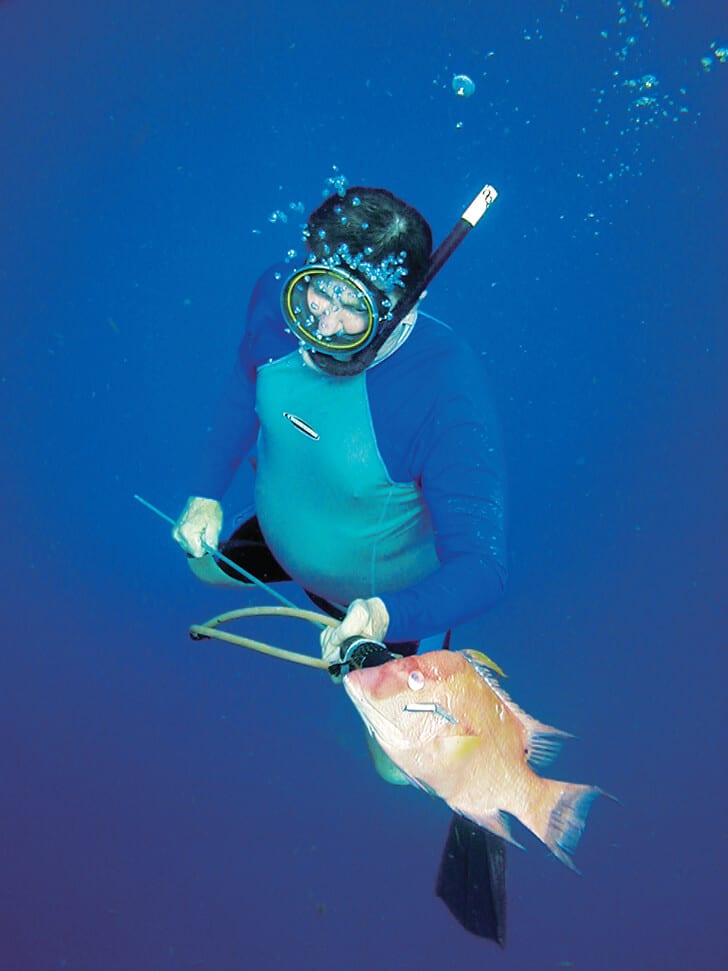 In the spearfishing community, there is one man everyone agrees deserves the title of "legend." That is Art Pinder.
Art was born in Miami in 1929, the fourth of five children. He looked up to his father and older brothers and wanted to follow in their footsteps. His father was an outdoorsman and worked his way up to captain of the Miami Beach lifeguards. Naturally, the children grew up around the water, and they learned to hunt at a very young age with homemade equipment.
Their slings were different from modern spearguns, and consisted of a free-flying shaft inserted into a cylindrical wooden "shooter." Similar to a slingshot, the shaft was powered by pulling a band back and letting go. This primitive form is making a comeback, and is the only allowable method of spearfishing in the Bahamas.
The Pinder brothers dove and speared at a time when the ocean was considered mysterious and dangerous. The brothers dominated and won every tournament. Meanwhile, Art worked as a lifeguard and crewed for big-game fishermen such as Walter Clay, Bob Stewart and Tommy Gifford. He later served in the U.S. Coast Guard, stationed at the Carysfort Reef Lighthouse.
In the water, Art accomplished feats that might never be duplicated. He slung a 7-foot sailfish, a 135-pound cubera snapper and a 584-pound Goliath grouper. Outside of spearfishing, he was credited with saving many lives, including a challenging rescue of 23 people whose boat had capsized in rough waters.
As Art became known for his spearfishing achievements, opportunities arose. He appeared in magazine and TV ads for liquor companies even though he didn't drink. He graced the cover of Sports Illustrated in 1955 and was featured in a three-part series.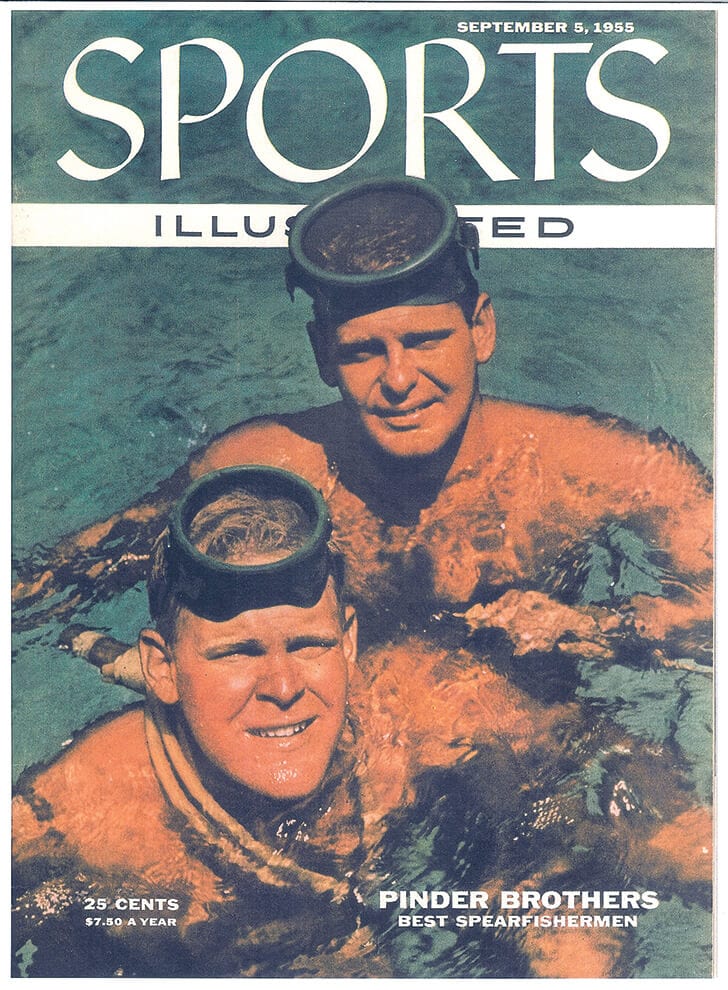 His most uncomfortable assignment was modeling Jantzen bathing suits. They paid more in one day than he got in a whole month of lifeguarding, so he put up with the embarrassment. He did several shoots with Frank Gifford (NFL MVP), Bob Cousy (NBA MVP) and Ken Venturi (golfer). Art wondered why they picked him alongside these sports giants, though he did believe spearfishing combined the best of many sports. It required strength and coordination, involved body contact with 300-pound fish, had danger and excitement—all set against a backdrop of unimaginable beauty.
In later life, Art became a pilot, a professional captain and a business owner, and he never stopped spearfishing. I had the honor of diving with him in his sunset years, when he could still capture fish like a 20-year-old. Art passed away in 2014 at the age of 84 and is survived by his loving wife, Alice. Rest in peace, Art…
Sheri is a world-record holder, host of Speargun Hunter, and producer of "The Blue Wild Ocean Adventure Expo" in Ft. Lauderdale, Florida. Follow "Sheri Daye" and "The Blue Wild" on Facebook and Instagram.