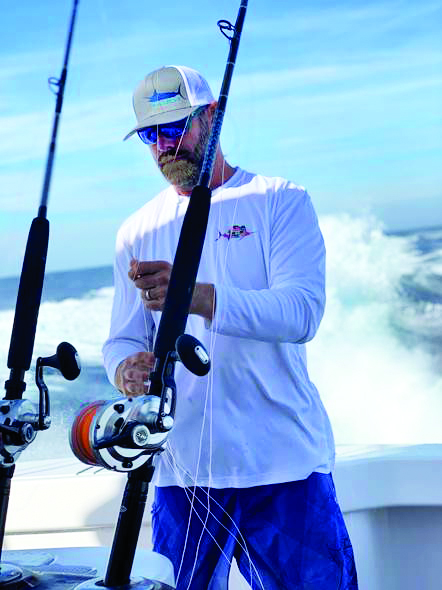 Kluch Clothing Company is the premier source for promoting businesses and organizations all over the country. The business has been thriving for over 25 years due to excellent customer service, top quality products, and an overall high valued experience.
Kluch was founded in 1992 focusing mostly in the screen print industry, by 1994 Kluch was offering custom screen printing to a growing number of accounts in South Florida. To this day the company continues to provide and furnish thousands of customers with screen print, embroidery, dye sub, promotional items, vinyl, logo design, and more.
The idea behind Kluch is to perform while under pressure, to make the most out of your moments, and to enjoy your time away from the dock.
The Kluch logo originated as a crown and throughout the years evolved in shape not symbolism, one of perfection, hierarchy, and grasping what is dearest to us; embracing the idea of quality in the market. Currently the logo has gravitated toward a cleat. This logo shows strength, a familiar icon we all use to keep our boats safe. The cleat is open symbolizing we are off to sea doing what we love most. Owner Mike Riseley is most proud of Kluch because of where we started and where it has brought us today.
Sportfishing has always been a big part of the Kluch community and personality.  Mike shares his own personal story and passion for the business and the sport saying his favorite part of life on the water is getting away from the daily grind. Mike started bass fishing in Delray Beach as a kid and would go to the Keys fishing for snapper, grouper, and dolphin. In his teenage years and through his 20's he wanted to fish more often so he started to fish locally right out of Boynton Beach, favoriting trolling and kite fishing, stating "They both test your skill and provide an experience that is tough to measure. Not only is kite fishing a great way to deploy an amazing spread, it is peaceful and allows you to see a great deal before, during, and after the bite. Trolling is another way to create a spread which raises all types of species thus offers some great benefits as well".
Mike began tournament fishing with a friend and together they experienced a lot of success while constantly learning. Mike says "My favorite aspect of tournament fishing is that it counts for more than just a good time. You must try your best. Respect is high and preparation runs deep, if you can place your spread in the right place and be there at the right time the sport pays dividends; money, accomplishments, and memories all combining for a great reward. Tournament winning defines the Kluch movement ".
Kluch sponsors a few of the big name tournaments as in Blue Water Movement Series, Quest for the Crest, Saltwater, as well as a few local tournaments as in Boynton Beach Firefighters KDW and Lake Worth KDW to name a few.