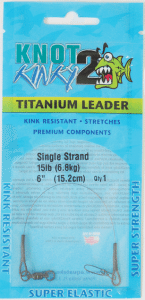 It's been two years since Knot2Kinky forever changed the definition of premium leader material. The knottable, kink and bite resistant, corrosion-free, and stretchable super titanium wire has become the only leader line in the tackle boxes of many freshwater and saltwater anglers. Welcome Knot2Kinky Leaders to Aquateko's surging stockpile of innovative terminal tackle, joining ranks with the multitude of products in the InvisaSwivel lineup.
To nullify fangs, canines and incisors, it's mandatory to use a slash-proof leader. And to accommodate a wide range of fishing applications, one needs a full complement of weights and lengths. Knot2Kinky Leaders come in strengths from 15- to 100-lb. covering everything from northern pike and bluefish to muskies, mackerel and kingfish, all the way to sharks or barracudas. Big fish with big baits call for 18-inch Knot2Kinky Leaders. Shorter nippers are better tackled with 6-inchers. Shorter leaders can also make better for casting, as the swivel doesn't get choked in the top guide of your fishing rod.
Component-wise, all Knot2Kinky Leaders incorporate a heavy-duty, dual rotation ball-bearing swivel. The snap is similarly special. A trusted, size-matched Stay-Lok™ snap is standard issue on every size and length of Knot2Kinky Leader.
www.aquateko.com • sales@aquateko.com • (904) 273-7200