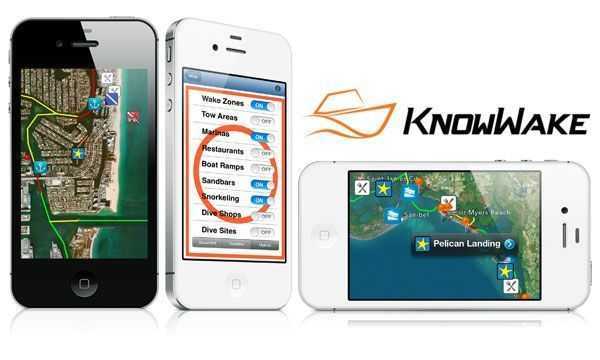 If Santa didn't bring you everything you wanted last month, I have the perfect gift you can buy yourself for under $5. KnowWake is hands down the best APP designed specifically for boaters. You can download KnowWake on your smartphone and instantly have a guide to all the great restaurants, dive locations, boat ramps, manatee zones and a lot more. It's like turning your smart phone into a mini chartplotter that's preloaded with important and fun locations for you to explore. Why bother carrying around large folded paper guides to the area, when you can have all that information plus a lot more right on your phone.
KnowWake allows you to find new and fun destinations to explore by boat or personal watercraft all over South Florida. The Atlantic Coast, Gulf Coast and Florida Keys have all been charted and are all included in the download! Find your destination and let KnowWake take the uncertainty and guesswork out of interpreting the NO-WAKE/SLOW-SPEED/MANATEE-ZONE signs posted along the waterways. Safely and confidently navigate these heavily regulated speed-zones with real-time, self-updating, color-coded maps. KnowWake is an especially helpful tool for anticipating safe Estimated Time of Arrivals (ETA) while cruising any time of the year.
This app is a full guide to the waterways including all the must-have locations for every boater to get the most out of being on the water. KnowWake now offers webcams of all major inlets to allow you a preview before going on or offshore. New features like diving spots and diving shops are all plotted for your convenience. Whenever you're on the waterway let KnowWake guide the way. Enjoy and Happy Boating!