Two fishing buddies from Pocatello, Idaho recently broke the catch-and-release kokanee state record twice in three weeks.
For those unfamiliar with kokanee, it is the freshwater form of the well-known sockeye salmon of the northern Pacific. Sockeye, the salmon you find at the grocery store, are anadromous. They run out of the ocean and into rivers to spawn each fall. Kokanee also make a fall spawning run up creeks and rivers, but their lives are spent entirely in freshwater.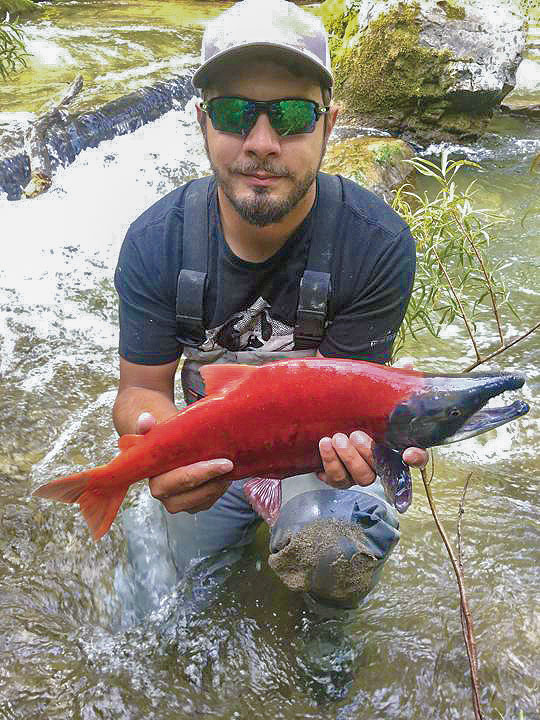 It is thought the two species diverged thousands of years ago when ice melt created a system of large freshwater lakes and rivers across northern North America. While the sockeye continued their anadromous lives, kokanee did not to return to the sea. In some regions the two species still interbreed, while in others kokanee have become entirely landlocked. Kokanee exist in lakes and rivers across the northern United States and Canada. They have even been transplanted into systems as far south as North Carolina.
According to the Idaho State Journal, Cody Spencer and Rob Mackesey got onto a good bite as kokanee ran out of Palisades Reservoir and up Elk Creek to spawn in August. Palisades is a 16,000-acre impoundment of the Snake River that sits hard on the Wyoming border near Yellowstone National Park. Elk Creek feeds the northern end of the reservoir just upstream of the dam.
Spencer and Mackesey told the Idaho State Journal they are relatively new to kokanee, but they were actually fishing for the record after they learned the existing catch-and-release record measured just 18.5 inches. For reference, the IGFA world record kokanee measured 27.75 inches and weighed 9 pounds, 10 ounces. Ronald Campbell caught the world record from Wallowa Lake, Ore. in 2010.
Kokanee State Record
On Aug. 19, both Spencer and Mackesey caught fish longer than the 2-year-old catch-and-release state record. Mackesey landed a 20.08-incher, and on the same day Spencer caught the 20.9-inch record setter. But the story doesn't end there. On Sept. 8, Spencer went back and bested his buddy with a 21.5-inch male that was dressed in its full spawning regalia.
Part of the allure of kokanee is their unusual appearance. For most of the year, they are silver-sided and resemble a rainbow trout. During the spawn, the bodies of the males turn bright red and they develop a hump on their backs.
The catch-and-release state record is a relatively new program for Idaho that encourages the release of fish by allowing anglers to apply for the record by photographing their catch next to a measuring device.
The official certified Idaho kokanee state record is a 6.59-pounder that measured 24.5 inches. Jerry Verge caught it from northwest Idaho's Priest Lake in 1975.