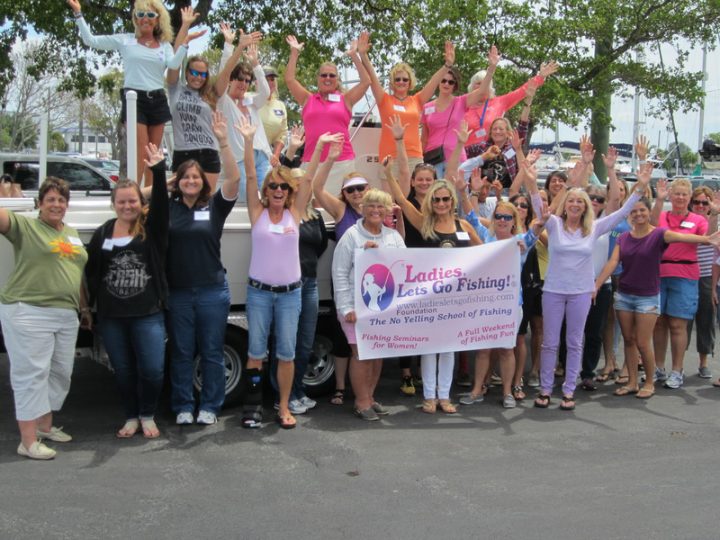 Women, men and teens are invited to tackle fishing skills at the South Florida "Ladies, Let's Go Fishing!" University, April 21-23 at the I.T. Parker Community Center, Dania Beach, FL. Hosted by the nonprofit organization, the weekend conservation-minded university offers classroom presentations, networking, hands-on skill practice and an optional charter fishing trip.
Activities launch Friday evening with a networking social and appetizer contest from 6-8pm. On Saturday beginning at 9:30 am are presentations on Fishing Basics by Capt. Lee Lavery, Offshore Fishing by Capt. Dennis Forgione, Inshore fishing by Capt. Brian Liebowitz, and Conservation by Betty Bauman. Hands-on skill practice follows, for releasing, knot tying, dehooking, bait rigging, spin casting, fly casting, gaffing grapefruits, cast netting, trailer backing, boat handling and more until 4:30 pm. On Sunday is an optional charter fishing trip for sailfish, mahi mahi, mackerel, tuna, wahoo, snapper and more, followed by a filet demonstration.
Ladies have the option to register a male guest and/or teens to include the whole family. Eight thousand women have graduated.
Featured on national network television and more, the series is supported by major partners including ACR Electronics, Recreational Fishing and Boating Foundation, Mercury, Ranger Boats, Magic Tilt trailers, Penn, and Fish Florida. Annual sponsors are  Humminbird, Minn Kota, Freedom Boat Club, Guy Harvey Ocean Foundation, Savage Gear/Okuma, Treasure Cay Beach, Marina & Golf Resort, Sunrise Resort & Marina, AFTCO/Guy Harvey, Future Angler Foundation, Seaguar, Power-Pole and Harbor Financial Services.
Registration includes instruction, use of equipment, hands-on training, networking reception and fundraisers. Fishing is additional. No equipment or experience is necessary. Membership is not required, however there is a South Florida chapter available for graduates to continue the fishing fun. I.T. Parker is at 901 NE 3rd St., Dania Beach, FL 33004.
Other LLGF events include:
March 25 Juno Beach Surf Fishing
April 21-23 South Florida Seminar Weekend
May 20-21 Clearwater FL Inshore/Bay Seminar weekend
June 17-18 Keys Fishing Adventure Islamorada, Anyone Can Win Tournament
July 29-30 Homosassa Scalloping
Sept. 9-10 Northeast Florida Seminar weekend St. Augustine
Oct. 20-22 Keys Seminar Weekend/Islamorada
Nov. 17-19 Everglades/Chokoloskee Adventure
Dec. 1-3 Miami Seminar Weekend (tentative)
International Adventures:
April 6-10-12 Havana-Las Terrazas-Varadero Cuba
April 18-24 Costa Rica
April 29-May 3 Havana-Santiago Cuba
May 16-21 Havana Cuba Fishing/Snorkeling
Contact: LLGF, phone 954-475-9068, fax 954-474-7299, email: fish@ladiesletsgofishing.com, website: www.ladiesletsgofishing.com, Facebook: www.facebook.com/ladiesletsgofishing