By Misti Guertin
Growing up as a child in South Florida and having a father who loved to fish meant weekends were spent on the water in pursuit of anything that swam below the boat. Many sheepsheads, grunts and blowfish were brought aboard the Mis-Di-Daw, and eventually as my sister Dawn and I grew older and more experienced, we exchanged the small fry for mahi and grouper.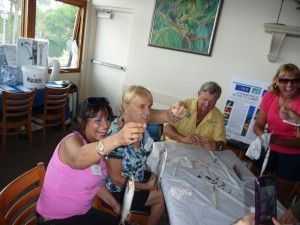 Years later, the fishing fun included trips aboard top-notch sport fishing boats, manned by a captain and mate. While this progression was great, it also meant that others rigged and set baits, gaffed the fish, and then cleaned the fish. As crazy as it sounds, I missed doing most of the work, and decided to re-learn the art of fishing.
Looking for a course, I chose a fishing clinic which is for women-only. This particular clinic was a two-day hands-on seminar, designed for ladies who want to learn how to fish or who are already fishing and want to improve their skills.
My classmates included woman of all ages and varied levels of fishing experience. Surprisingly, many had taken the seminar before and were back to fine-tune their skills, learn more, and to catch more fish. There were even women there whose husbands didn't like to fish, so the two-day seminar was a way for them to enjoy their passion with other female fishing enthusiasts.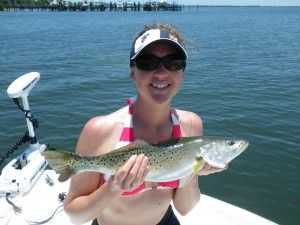 Our instructors were local and world renowned experts. The morning session encompassed conservation, fishing terms, bottom fishing and backcountry fishing basics, techniques for catching big fish on a small boat, tackle suggestions, how to prevent sea-sickness, and even how to choose the right pair of polarized sunglasses for the type of fishing you like to do.
After lunch, the afternoon was filled with hands-on skill stations, including flycasting, spin casting, landing and releasing, net casting, trailering techniques, knot tying, ballyhood rigging, habitat conservation and de-hooking fish, fish fighting techniques and more. From a dock, we practiced gaffing grapefruits. We learned how to flycast—repeat after me while casting your flyrod: 10:00, 2:00—in an open field. And we even practiced venting a fish. (No fish were harmed. It was a fake fish!)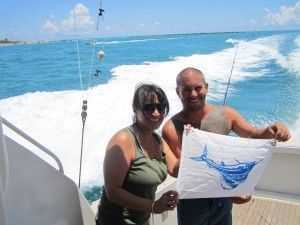 The following day, my classmates put their new or refined skills in action fishing half the day offshore or inshore. Upon returning to the dock, those who caught fish, and many did, learned how to filet their catch. One of the graduates even released her first sailfish!
My friend Melissa, who also attended the seminar with me, has purchased her first rod and reel, a tackle box, filet knife, pliers, and an assortment of top water lures. We will be the ladies casting from the shore, a bridge, or a dock and celebrating our catches with chilled Prosecco or Magaritas.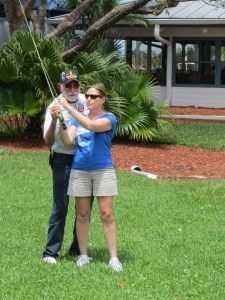 We are planning on attending more seminars in other states and to use our skills in a women's-only tournament. I recommend that any female anger who wants to learn the basics of fishing seek out a course near you that specializes in accommodating the female angler. I'm seriously re-hooked and I'll see you on the water!
Misti Guertin is a co-publisher of the Bahamas and Treasure Coast editions of Coastal Angler Magazine. For more information, contact Misti Guertin at treasurecoast@coastalanglermagazine.com