by Eric Welch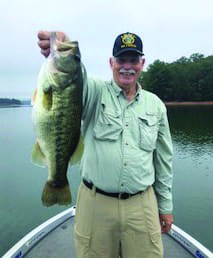 Water temperature: 64 degrees, lake level: 5.5 feet below full pool, clarity: clear.
Fishing is getting good. Fall is here, the greatest time of the year to fish. With the lake dropping and cooler weather in the forecast, fishing on Lake Chatuge is fixing to bust wide open. There has been a pretty good topwater bite going on. I'm mainly running around the main body and main lake pockets looking for breaking fish and big pods of baitfish. The baits I'm throwing are Strike King Sexy Dawg, KVD Splash, Ima Little Stik 135, Whopper Plopper and Cane Thumper. These fish are pushing the bait around in these pockets. After the breaking slows down, I'm following up with a Sebile Magic Swimmer 125 (custom painted), Nichols Flutter Spoons in bobshell shad and Rage Swimmer in 2.5 and 3.75 on a 3/16 swimbait head, just blind casting till the bait regroups.
After the topwater bite slows down, I start looking for fish off deep points and over brush using my electronics. The baits I'm targeting these fish with is a dropshot with a 6″ morning dawn Roboworm and a Z-Man TRD worm on a 1/16 Ned rig hook. This time of year, if you're not a slow finesse fisherman, you can also catch some good size fish throwing an A-Rig, spinnerbait and Rat-L-Trap around docks, points and bank lines around the river bends. Once the water temps get down around 55 degrees, we will start throwing a float-n-fly for spotted bass.
If you are looking for some great fall bass fishing, give Welch's Guide Service a call. We're your #1 guide service and we've been doing it since 2001. Good luck!