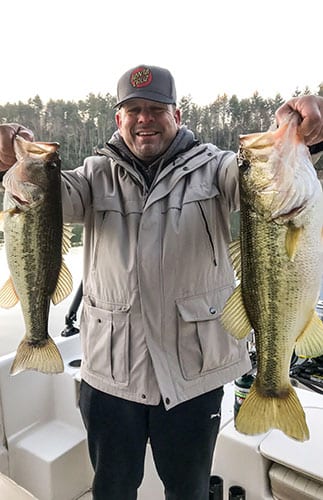 By Darren Hughes
Not much has changed out here on Lake Chatuge. We've had a pretty warm winter thus far which have kept our water temps a little warmer than usual. This has lead to some great winter fishing on Lake Chatuge this season.
Currently, the water temps are in the mid 50's. Water levels are still around 6 feet below full pool. Clarity is clear to stained in the creeks.
The spotted bass bite has been really good for this time of year, and we're seeing an awesome early morning to midday down line bite. Live blueback herring has been the key here. Top water has been decent and should pick up in the next few months. Look for these fish to be holding off points and ledges off the main channel. We've also seen some nice schools of bass on shallow flats throughout the lake.
Our hybrid bass bite has also been fantastic, with early morning being the best time to target these fish. Pulling planer boards and free-lining live bluebacks and shad have been the best techniques. We have also been catching some nice fish in the 10 to 13 pound range in the backs of creeks and off some sloping points.
March fishing on Lake Chatuge is always exciting. Remember, live bait on this lake can be the difference between a successful day of fishing and a horrid one. For all of your bait and tackle needs, come visit us at Hughes General Store in Blairsville, GA–it's the best place around for quality live blueback herring. We also carry ethanol-free gas and have some of the best hot, made-from-scratch biscuits in North GA. For guided fishing trips on Lakes Chatuge, Apalachia, Hiwassee, or Nottely, or questions about the bait shop, call me, Darren Hughes, at Hughes General Store. And whether you're a seasoned angler or just starting out, give Chatuge a shot for some of the best spotted bass and hybrids in the area. Good luck, and get hooked!
Darren Hughes is the Owner of Hughes General Store & Bait Shop and a member of The Angler Magazine Fishing Team and Guide for Big Ol' Fish Guiding Service. Look him up at www.bigolfish.com or give him a call, (706) 745-6569 or (828) 361-2021.