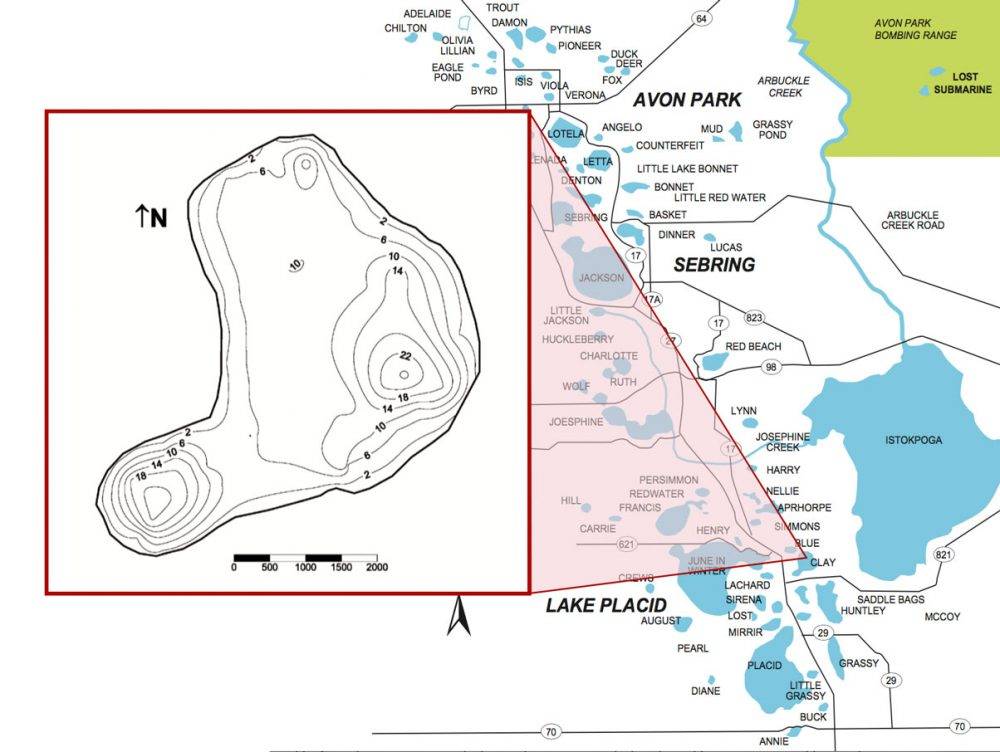 Lake Clay is a small 353 acre lake located in Lake Placid, FL that offers plenty of opportunities to fish to your strengths. Whether you want to flip and pitch shoreline vegetation and docks or go deep with Carolina rigs and deep diving crank baits, there is something for everyone.
Lake Clay is mostly surrounded by residential homes with just about every waterfront home having some type of dock system. There are two public boat ramps both of which have concrete launch pads and limited dirt and grass parking. The lake takes the shape of a bulging crescent with sandy shallows that quickly fall to a depth of six feet. The southeast and southwest corners of the lake have deep pockets that may reach 20-feet. The lake is connected to Lake Apthorpe to the north via a small creek-channel which expands into a residential canal system at the northeast end of the lake. During periods of lower water, the canal system may have limited access. To the south the lake is connected to Lake Huntly via a small creek bed. Neither waterways are fully navigable by boat to the neighboring lakes.
The lake is home to largemouth bass, some of which are in the 8 to 10-lb class, black crappie, shell-crackers, chain pickerel, bluegills, catfish, and miscellaneous panfish and baitfish. The edges of the lake are a mixture of vegetation from Kissimmee Grass, a few cattails, pads, and shrimp grass. So your options of fishing include; flip it, frog it, swimbait it, spinner baits, top water, or just cast a big worm. There are plenty of targets to aim at.
The northeast corner canal system can be very productive during the spawn from January through April though access is dependent on water depth. Fishing top water, swim baits, and Senko type baits seem to be the go-to baits in the canals.
The best colors for soft-plastics on Clay seem to be those of neutral tones. Water clarity is usually fairly clear so watermelon-red, green-pumpkin, green, and mixtures of similar colors will get the job done. For the two drop-off areas that taper down to 20-ft, cranking deep divers and Carolina rigs can produce some good fish especially during the peak heat of summer.
To sum it up, there are lots of fish to be caught on many different methods. Tournaments have produced weights surpassing 25-lbs and several fish in the 9 & 10-lb class. Since the 2012 start of the FWC Trophy Catch program, only two trophy bass have been reported of which Don Enright's 11.75 lb bass caught on March 16, 2016 being the largest. For a small lake, Lake Clay is a surprisingly productive lake.