Lake Erie boasts some of the best smallmouth bass fishing in the world. And over the nearly 10,000 square miles of surface area on this massive lake, the Eastern Basin offers some of the best habitats for bronzebacks.
The Eastern Basin is the deepest part of the lake and is separated by a ridge that runs north to south from Long Point in Ontario, Canada to Erie, Pennsylvania. Buffalo New York sits on the eastern shore at the mouth of the Niagara River.
Anglers visiting Niagara Falls would be foolish not to set aside a day for fishing the irregular near-shore topography that makes the Eastern Basin such a good fishery. Biologists see incredible growth rates from smallmouth in this area, and 5- to 7-pound fish are a regular occurrence.
Kayla Culp, a teacher from Ridgeway, Ontario, has spent years patterning smallies on the Canadian side of the lake. In the Canadian waters of Erie, the bass season is closed in spring to protect bedding fish. This is not the case for U.S. waters, where anglers take advantage of pre-spawn migrations as early as April. When the fish move up onto sand flats and chunk rock and into the bays and major tributaries in early spring, it is a time for bumping the bottom in 15 to 20 feet of water with spoons, tube jigs or blades. It can be a grind to find fish, but anglers who set up over a school will find plenty of action and potential for giant smallmouth bass.
Lakewide, bed fishing is generally frowned upon. When the Canadian season opens in late June, smallmouth are typically feeding aggressively during their post-spawn transition to deeper water. Culp said early summer is a fun time to fish the lake. Smallies will be on the weed edges, and they are susceptible to run-and-gun tactics or trolling with fast-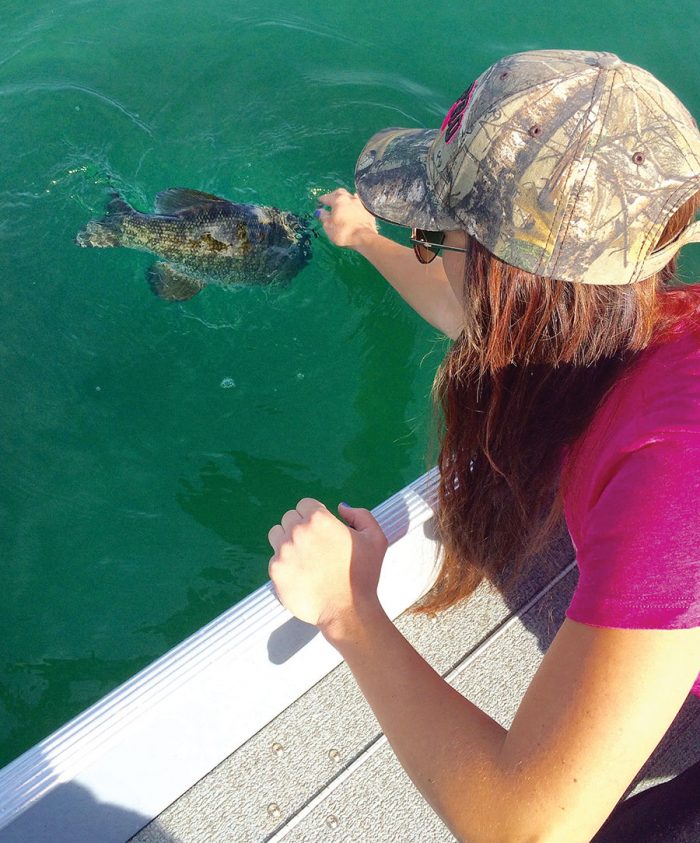 moving lures like jerkbaits, spinnerbaits, and crankbaits.
The location is everything when fish are spread out over so much water. Some enjoy drift fishing to find fish. Culp says to trust your fishfinder and cruise, look for rock-to-sand transitions. This is especially important as fish move deeper. In summer, big smallies will hang around structure or transitions just off the bottom. The depth can go from 10 to 15 feet in early summer out to 30 feet as the water warms.
This summer bite is Culp's favorite of the year. She enjoys drop shotting soft plastics and tubes into schooled-up fish. When it's on, 30 fish or more from 2 to 5 pounds and larger are a definite possibility. A natural approach is best in Erie's clear waters. Dark colors like green and brown make up the majority of Culp's soft-plastic arsenal.
This makes sense. It fits the color scheme of the round goby. These little bottom dwellers invaded the lake in the mid-1990s, and smallies developed a taste for them. Biologists have estimated that gobies account for up to 75 percent of an Erie smallmouth's diet. The goby invasion is widely credited for accelerated growth rates of smallmouth in the lake.