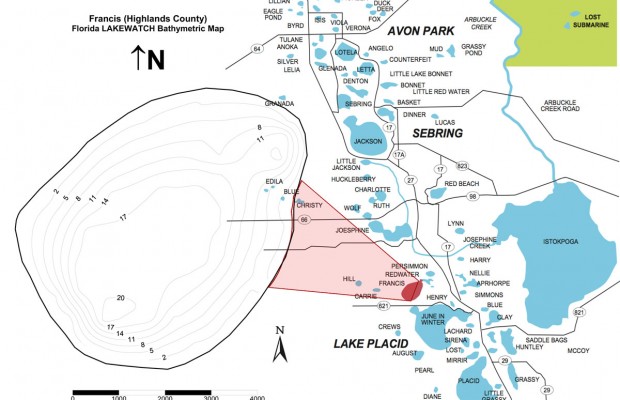 Lake Francis is a hidden little gem of a lake off of Cloverleaf Road in Lake Placid, FL. While only 539 acres, this lake fishes big. The lake has only one public launch ramp which is located at 300 Cloverleaf Road. The ramp consists of a single lane concrete pad without a dock and with very limited grass parking for perhaps four to six trailers.
This fairly shallow bowl shaped lake has an average depth of 8.5-ft with a few deep holes on the north and south end of the lake. The deepest hole has a maximum depth somewhere around 25-ft and holds scattered debris on the bottom.
Lake Francis is connected to two other lakes, Red Water Lake and Little Red Water Lake, through a series of canals. These canals can have pockets up to 15-ft deep and can be very productive, especially during the spawning season.
The northern edge of Lake Francis borders a residential neighborhood and has plenty of docks providing cover for both bass and panfish. The southern end of the lake is generally under developed and lined with scrub bush and trees. Besides the docks, the shoreline contains pockets of lilly pads, cattails, and even some Kissimmee Grass beds. The bottom has a gradual contour and consists of shrimp grass, scattered chunk rock, sand, wood debris and manmade tree piles. Water clarity is generally clean and unstained.
Lake Francis holds a variety of fish species including largemouth bass, pickerel, bream, crappie, shellcrackers, paco and catfish. To date, over the last three seasons only three bass have been reported to FWC's Trophy Catch or Big Catch programs but they consisted of a 9-6, a 10-9, and a 10-10 lb fish. Not bad for a little lake.
When fishing for bass, Lake Francis is open to a wide variety of presentations and baits. Naturally live shiners will provide the best opportunity to land a nice bass though those pickerel will also appreciate your live bait offering. For artificial bait anglers, top water frogs and flukes work well year round as well as natural colored crankbaits in 1.5 (3-inch) and 2.5 (3.25-inch) sizes. For offshore anglers, dropshots, Carolina rigs, and Texas rigs with worms or swim baits work well in the depth range of 7-15ft. With the water being clean, stay with natural color shad, bluegill, and shiner colors. Come fall and winter this lake has some fine Speck fishing. For these slabs, use minnows for the best results. So for a little lake, Lake Francis has plenty to offer and don't forget those canals and connected lakes.
Good luck and see ya on the water.