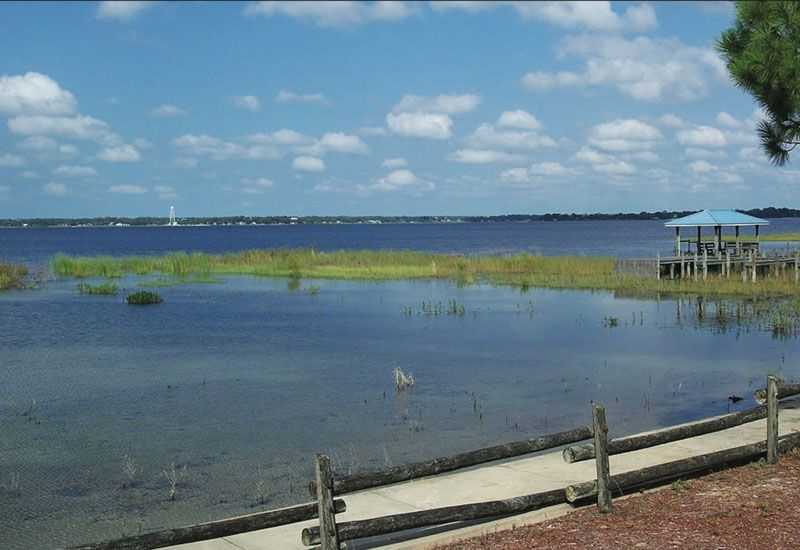 Lake Jackson, a 9,212 acre lake is the centerpiece of Sebring, Florida. It is a healthy, freshwater lake, often referred to as a "recreational" lake providing opportunities for swimming, skiing, boating as well as fishing.
Most of the lake is relatively shallow, although some of the deepest areas exceed 25' in depth. Compared to many lakes in this area, the water is very clear and the beaches are white sand.
I started fishing this lake 25 years ago, just after I moved from Ohio to Florida. Although I didn't live in the area, I traveled there often to visit my mother who lived in Avon Park, and of course, while I was there, I had to do a little fishing.
Even before I started fishing Lake Jackson, I heard stories about how the lake used to be filled with all types of vegetation and that the fishing for largemouth bass was excellent. Chemicals were used to eradicate the vegetation and as an on-going "maintenance program", grass carp were introduced to eat the new and remaining grasses.
But even without the vegetation, Lake Jackson always seemed to produce an abundance of bass. Fishing more open-water areas, it proved to be at its best early in the morning and again, just before sunset. Top-water lures would often out-catch anything else and catches of 20-30 bass were pretty common.
Deep-water structures, mostly brushpiles and a few sunken boats, continue to provide great cover for bass and a bonanza for bass fishermen.
The lake is surrounded on one side by Route 27, while the land around the rest of the lake is all developed into private residences, and condominiums with a scattering of businesses. The lake has a number of boat ramps, but all but one are on private property. The primary boat ramp is located at Veteran's Beach on the west side of the lake.
The lake is almost round with the exception of the north cove, which is also a smaller, round version of the lake. Lake Jackson is connected to Little Lake Jackson via a short canal under Route 27. With a maximum depth of 30 feet, the lake covers 137 acres.
There are no public boat ramps on the little lake, however many fishermen prefer the deeper water with less recreational activity than the big lake.
A couple of years ago, the lake were so low you couldn't launch a boat from Veterans Beach. No one seemed to know the cause but it provided an excellent opportunity to re-pour the launch site and dig out the washed in sand. In 2013 the over-abundance of rainfall not only filled the lake but raised the level several feet higher than normal. As a result, the vegetation once on land provided excellent cover for bass and blue-gills.
Beginning in June of 2013, we fished the lake every week in a small, local tournament with 6-10 boats. Although we caught lots of bass, big fish proved to be a rarity. With a 14", three fish limit, most tournaments were won with 12 pounds or less.
We fished every week from June until December and only three fish were weighed in over 5 pounds. The largest was a 5.10 pound bass. Although quality lunker bass eluded us, there many days anglers caught 25-30 bass in a 5 hour time period. Unfortunately, many were only 10 – 13 inches long.
Although I haven't fished the lake as often in the past year, a number of bigger fish have been caught through 2014 and into 2015. The largest reported bass, a huge 10.6 pound bass was landed by a local resident fishing with wild shiners.
My best luck came out of Little Lake Jackson where I caught one of the 5 pound bass during our small tournaments in 2013. My partner, Burt Watkins of Avon Park hooked into a real monster the same day but wasn't able to get it into the boat. We estimated its size to be well over 10 pounds.
Lake Jackson may not be my first choice for bass lakes in Highlands County, but for a lake close to home in the heart of Sebring, it's still a good lake to fish with an abundance of bass.