by Capt David Hare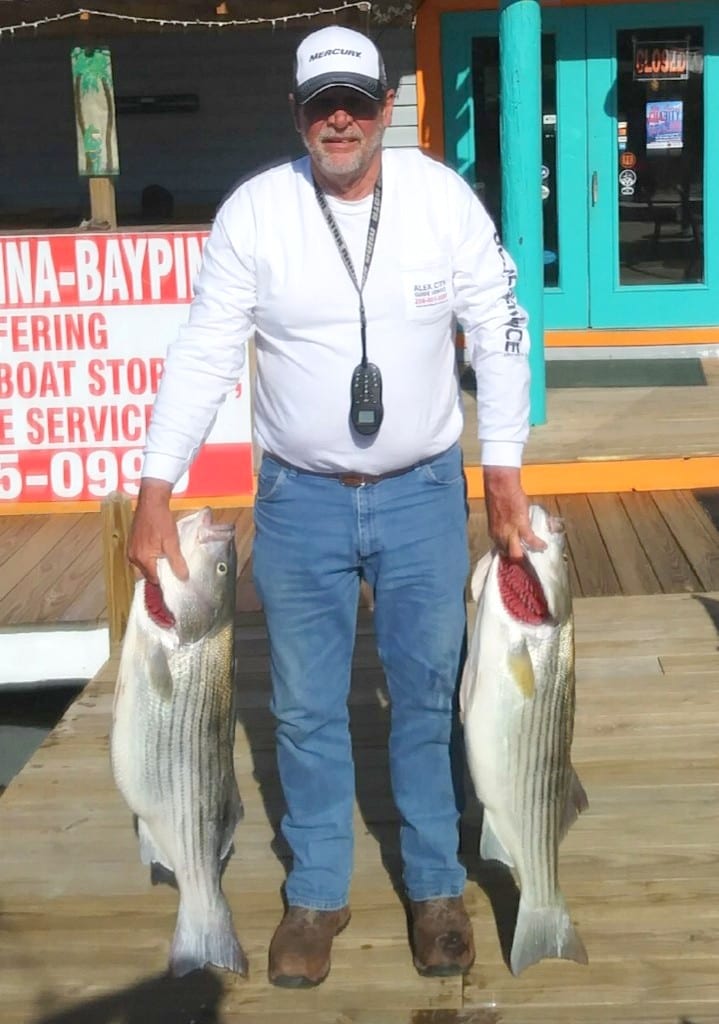 Water Temperature: 84 degrees, lake level: full pool, clarity: clear.
So far May has been another good striper month. We have caught a world of them on top with artificial and with live bait on top. Very exciting action when you're catching trophy 20 to 40-pounders on light weight tackle. Hope it continues to June.
For June, expect some very early action out of stripers out in the open water. Occasionally, you'll get late afternoon action, but right at dark the night bite gets busy in June. Expect to find a few around dock lights that will be catchable, but almost all of my night trips I fish the wide open waters and get the fish to come to me instead of doing a whole lot of dock light fishing. To do this type of open water fishing, you should rig your boat with a nice LED light package. My personal favorites are the brand name Blue Water LED lights.
My favorite nighttime live bait is the smaller gizzard shad rigged with a 2-3 ounce weight, #2 circle hook and a fluorocarbon leader. Size line and size leaders depend on clarity of water and the size fish you are targeting. Try to use the lightest test line you think you can get by with. As I tell all my clients, most people do not have the capability to catch shad, or even harder, to keep shad alive, so just buy you a few black salties and try your luck with them.
If none of this sounds like your cup of tea as far as night fishing or real early morning fishing, then as I always say, get a couple downriggers and troll deep water with your lures running deep  around 2-3 mph and you should be able to boat these awesome fish in June with not a lot of trouble.
Until next time catch one for me! For bookings, contact me at (256) 401-3089