Capt. David B. Hare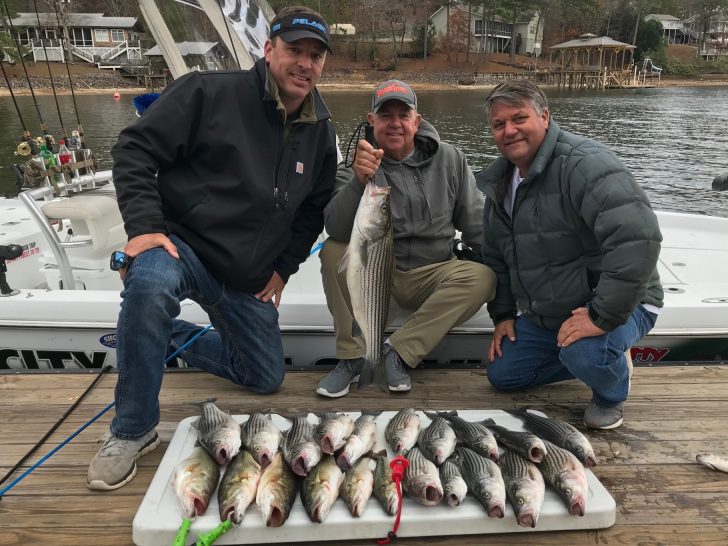 Happy New Year 2020 !!!! I hope everyone had a great holiday season. Each new year brings with it some of the best boat shows around the country. Two of the best boats shows (I personally am set up at) are The Atlanta Boat Show at the GWCC which is held January 16th thru January 19th. See Alex City Guide Service at Booth # 141 and then my next one is The Birmingham Boat Show at the BJCC January 23rd thru January 26th see Alex City Guide Service at Booth # 2. You will see the latest and greatest boats, marine products, fishing products, charter fishing guides, etc., etc. that 2020 has to offer. As always, you'll find all kinds of activities for the children and the young at heart. I personally will be working our booth along with some of our best guides will be with me to answer any and all questions for you concerning Lake Martin. Most (if not all) vendors will be offering boat show specials including yours truly will be booking charters with a "No Deposit Required Special", so stop by and book your favorite date or dates with us.
Now on to fishing this month, believe it or not winter fishing on Lake Martin has always been very good with January being no exception. If you're not an early riser then you're in for a treat this month because most anytime this month the bite is great all day long so sleep in if that's what you prefer and then get out on the water and have some of the best bite activity you'll ever experience. Whether your fishing Stripers, White Bass, Spotted Bass or Crappie you will have fun. Large schools will be found in the deeper areas around the lake and I promise they are just waiting on you to drop your favorite jig, spoon or live bait in front of them. Taking a little time and watching for gulls or scanning the lake with your electronics you will find them and then it's on. Say that you don't like sitting still well put your downriggers on and do some trolling it will pay off for you also. Say deep water fishing not your thing either well then you're in luck ( if your searching for that trophy striper) put some planer boards out with live bait or some shallow running crank baits or some top water baits ( ex: Redfins ) being pulled behind the boards at 1-1.5 mph . Using the planer board technique work long shallow points, under water islands, creek channels, or some flats (Blue Creek) has all these features along with other areas of the lake. I personally like pulling boards when I'm working water depths of 25 ft or less.
Let's talk a little about catch and release due to the high volume of fish boated in the winter it's the perfect time to be able to keep some fish for consumption but there's never a better situation to be able to release fish unharmed with almost a 100% survival rate if they are not gut hooked or kept out of the water too long ( ex : take a quick photo ) and get them back in the water ASAP.
As always you need to wear your PFD (life vest), but definitely in the winter. You need it due to hyperthermia setting in fast if you were to become overboard. Keep you some extra dry clothing in your boat , a fully charged phone ( not in your pocket ) on board , tell loved ones where you intend to launch from plus what areas you more than likely will be fishing and a departure time for them to expect . Even though my wife might not know where I'm talking about when I text her of locations I plan to be while out on the water she will have a copy of the text and definitely can forward it to friends or god forbid first responders if I fail to come in at end of the day. It's very critical that rescue squads and first responders to at least have an area to begin searches from. There is no need to be nervous about fishing at any given time but it sure doesn't hurt to be prepared for an emergency if it was to come up.
Capt. David B. Hare
Alex City Guide Service
256-401-3089
2036 Cherokee Rd
Suite 205
Alexander City, Al. 35010
davidbhare@yahoo.com
www.alexcityguideservice.com
Fbook/alexcityguideservice/LakeMartin