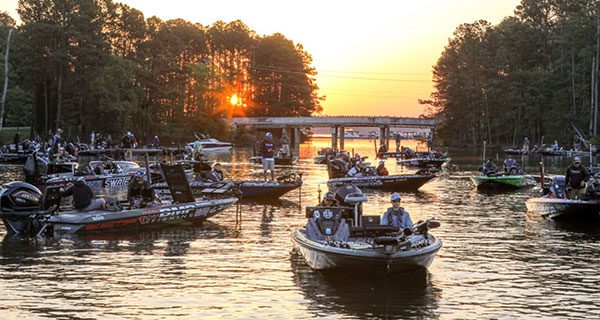 Fishing Competition – January 26-27, 2024
Columbia, S.C. — Capital City/Lake Murray Country Regional Tourism Board (CCLMC) is proud to announce that Lake Murray will be one of six stops on the Bassmaster College Series Tournament Trail. The series will set up shop on Lake Murray, January 26-27, 2024. "We know Lake Murray will deliver a challenging event to the collegiate anglers and the final weights will be strong," said Miriam Atria, CCLMC President/CEO.
Named the country's fourth-best bass lake on Bassmaster Magazine's 2023 "100 Best Bass Lakes list", Lake Murray will kick off the Legends Trail, Jan. 26-27, 2024. From there, the tournament trail will continue its national tour through early June.
"We're really pleased with this schedule," said Glenn Cale, tournament manager for the College, High School and Junior Series. "It is fun for both the anglers and their families to explore some of the country's historic fisheries and the communities surrounding them."
2024 Bassmaster College Series Schedule
Legends Trail
January 26-27, Lake Murray, Columbia, S.C.
April 18-19, Kentucky Lake, Paris, T.N,
June 6-7, Saginaw Bay, Bay City, M.I.
Lunkers Trail
February 1-2, Clarks Hill Reservoir, Columbia, G.A.
March 7-8, Douglas Lake, Jefferson, T.N.
May 16-17, Sam Rayburn Reservoir, Jasper, T.X.
Learn more: Strike King Bassmaster College Series presented by Bass Pro Shops at https://www.bassmaster.com/college

About B.A.S.S.
B.A.S.S., which encompasses the Bassmaster tournament leagues, events, and media platforms, is the worldwide authority on bass fishing and keeper of the culture of the sport, providing cutting-edge content on bass fishing whenever, wherever and however bass fishing fans want to use it. Headquartered in Birmingham, Ala., the 515,000-member organization's fully integrated media platforms include the industry's leading magazines (Bassmaster and B.A.S.S. Times), website (Bassmaster.com), TV show, radio show, social media programs, and events. For more than 50 years, B.A.S.S. has been dedicated to access, conservation, and youth fishing.

About Capital City/Lake Murray Country Regional Tourism Board:
CCLMC is the official source for all things Lake Murray Country. To plan your next trip, find information on attractions, dining, hotels, outdoor recreation, fishing, golf, and events. For more information about CCLMC visit LakeMurrayCountry.com or call 803-781-5940 | 1-866-SC-Jewel.