Lake Murray February Fishing Report
In the month of February, the water temperatures on Lake Murray will begin to warm by the end of the month. Fish will continue to move from their winter patterns into their pre-spawn patterns, bringing the fish closer to the banks and into the shallows. Focus on the main flow areas of the lake and around the mouths of creek arms in the color transitions on secondary points, and on steep banks with rock and hard-bottom areas.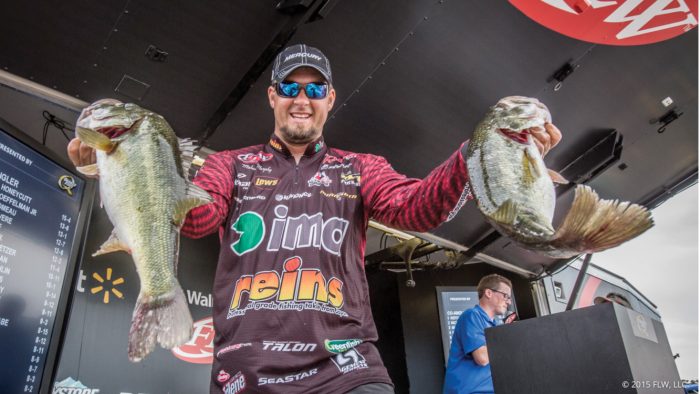 On the upper reaches of the lake, from Dreher Island up river, and in the backs of main lake coves where the water has more color, look for fish to be positioned in deep water closest to shore and starting to show up on shoreline cover, such as laydowns, docks and rocky banks. This can be relative to the area and might be a ditch in a pocket, a deep bank of a creek channel, the side of a point, or the end of a point that drops into a ditch or creek channel in front of a spawning bay. Typically, fish will be holding relatively close to deep water, 10 feet or more, and will begin to position even shallower by the end of the month. Techniques of choice should be slower techniques with crayfish and shad-mimicking baits. Good lures to try are Greenfish Tackle spinnerbaits and jigs, flat-sided crankbaits like the Ima Shaker, soft plastic creature baits, tubes and beaver type baits such as the Reins Craw Tube and Punchin' Predator, and finesse worms in a Natural or Green Pumpkin color. Focus on moving baits during cloudy or windy conditions, switching to slower moving baits as the day gets brighter and the wind dies. Be sure to key on areas with rock or a hard bottom, as well as docks built on black floats.
On the lower end of the lake, from Dreher Island to the dam, focus on slower moving bottom baits, such as a Greenfish Tackle jig in the Murphy's Magic color, a shaky head or a dropshot like the Reins 5-inch Bubbling Shaker in a Watermelon or Green Pumpkin color, especially during times with no wind. If there is wind, try suspending and moving baits like the IMA Flit and Ima Pinjack 200 on points, jigging spoons on the sides and ends of points, and swimbaits (by the end of the month), like the new Optimum Baits Boom Boom Rigged Swimbait in a Sexy Shad or Blue Shad Color around docks. Key areas to fish are those holding blueback herring shallower and white perch deeper. Focus on the sides of flatter points with hard bottoms where there may be a drop or an ambush area which is typically marked with a hazard marker buoy warning boaters of its presence.
The month of February is when fish start to venture into their pre-spawn areas. This is a great month to catch fish in predictable areas, as they can be easy to pattern with good electronics. Bass will be in the backs of creeks and pockets, holding in the last deep water areas around rocks and docks, and set up well in deeper 25- to 40-foot areas off of points toward the end of the month. Up the river and in the backs of creeks and coves, where resident fish are more prevalent, fish could still be as shallow as a couple feet, as long as there is a creek channel or deep water nearby. Be sure to focus on areas with bait, hard-bottom areas, and Northshore banks that get the most sunlight. Down the lake where bass are set up deep, they will be feeding on blueback herring, white perch or crayfish and will typically be positioned on long tapering points adjacent to spawning coves. This time of year is a great time to utilize your electronics and spend time idling looking for key sweet spots in the form of rock or brush piles.
A great way to get out, enjoy the outdoors, and do a little fishing is to book a trip with one of the Lake Murray area guides. I am a certified Fisheries Biologist, Coast Guard Approved, and a full-time largemouth bass guide. I have fished fulltime and competitively for the past 11 years, across the country on both the BASS and FLW trails, and have a lifetime of fishing experience. I am well-versed in multiple techniques of your choice, tournament preparation, and/or electronics education. I would love to share my knowledge with you on the water and enjoy a day of fishing.
Michael Murphy
USCG Approved
Merchant Mariner Licensed
(770) 605-6373
www.MichaelMurphyFishing.com
Michael@MichaelMurphyFishing.com