by Nathan M. Shellen, Contributing Writer
This time of year, bass are on the move toward spawning areas and we have been catching some really big bass here on the Big O. It will only get better as we move into April and May. It has been a great season thus far here on Okeechobee and it seems to be getting better daily. We have had a couple of cold fronts that slowed fishing down for a few days, but then we are right back to catching lots of fish.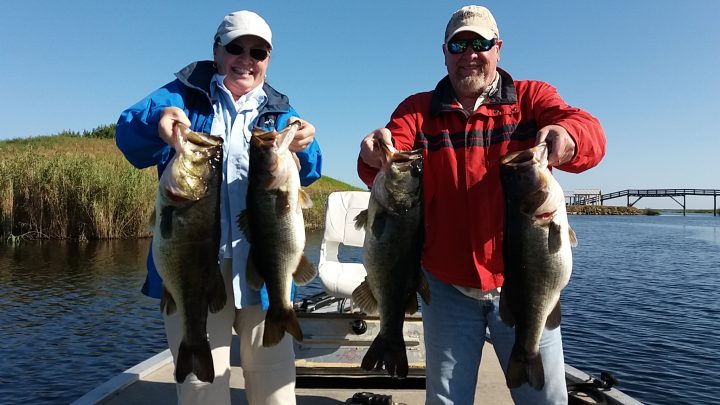 The water level is around 12.5-feet above sea level and in my opinion that is just about right for this time of the year. I have been fishing from Harney Pond, Horse Island, and Dupree Bar with the wind being a deciding factor each day. The main concentration of bass still seems to be on that outside grass line close to open water. When the wind really blows, moving back in until you find clean water will help you locate the fish. The bass on the outsides are fresh bass moving in off the main lake headed toward traditional spawning areas so be ready for this bite to start happening. The bite on wild shiners has been fantastic! Five to six dozen shiners usually only last for three to four hours, and then it is off to catch some on artificial lures. The bite on artificial lures has picked up some as more bass move into their spawning areas throughout most of the lake. The Senko has been my choice for soft plastic lures and a Gambler Big Easy or Reaction Innovations Skinny Dipper has been my choice for swim baits. For all my northern friends, be sure and come armed to catch; get these Lake Okeechobee bass out of the heavy grass. I prefer a heavy action rod and braided line, at least in the 50-pound test range.
The bluegill and shellcracker bite will be on as well this spring. Start by using live worms, crickets or grass shrimp. These are the go to baits for these fish. Look for clear water and the fish spawning on sandy white spots in the hydrilla or other grasses. These fish make great table fare and are super fun to catch on an ultra-light rod or even an ole' cane pole. Fish in the 10-foot to 12-foot range will be easy to find once the fish move on to their beds.
The crappie bite has been very good from the reports I have been getting and areas north of Uncle Joe's cut, around Bird Island, and Horse Island and Whidden's Pass have been the areas that have been producing here on the lake. Jigging and minnows are both working. Now is the time to be on Lake Okeechobee catching bass; we do catch bass year-round but now through May is the best chance to catch that once in a lifetime fish. Couple of tips for out of state boaters new to Okeechobee. We have a tons of boat trails in the reeds and I would like to stress that these are boat trails NOT fishing trails. Fishing in these trails is a good way to get run over and we don't want to see anyone get hurt. The other thing is common courtesy among fishermen; treat people like you would want to be treated and I think we all will get along just fine out there on the water. Until next report good luck, tight lines, and Bucket Lips. I hope to see everyone on the water!