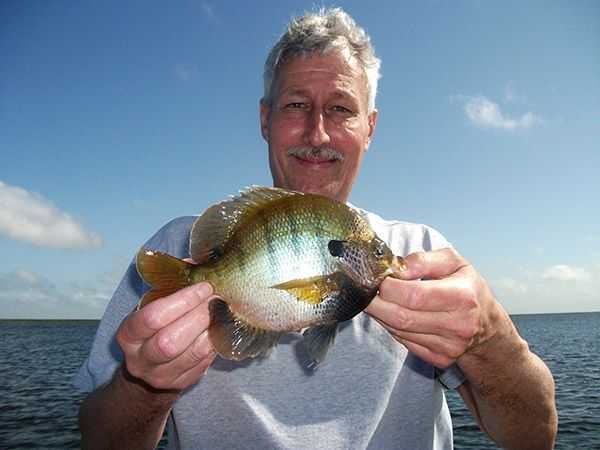 The Big "O" is settled into a summer pattern. Longer daylight hours and water temperatures in the low- to mid-eighties are mainly responsible. During this time of year most savvy anglers realize the importance of being on the water at daybreak. At first light, bass can be seen and heard as they chase bait along the Kissimmee Grass lines that surround the lake. Schools of shad and other baitfish are abundant around the edges of the cover areas. Nearly any lure presented will result in jarring strikes as the fish misidentify your fake offering as a live food item. In an effort to catch as many of the marauding bass as possible in a short time, we start with a bait that can be casted and retrieved quickly, allowing us to cover larger areas and make quick accurate presentations to hungry, feeding bass. Top water plugs draw vicious responses from feeding fish. But the multiple treble style hooks can lead to difficulty in unhooking fish quickly and efficiently. A spinner-bait, however, has a single hook and is relatively weedless.
When casting into the Kissimmee grass beds, an angler must start their retrieve just as the bait hits the water, which gets the double willow leaf blades turning and also keeps the bait from sinking deeper into the thick grass where it will sometimes hang up. The bass are cruising the grass and are looking up to find baitfish silhouetted against the sky, as the spinner bait comes over head the bass will lunge up from underneath and attempt to inhale the bait. It is a very exciting, and rewarding way to catch a large number of fish in a short time. Each day varies, but on a day when the bite is on fire it is possible to put 25 to 40 bass in the boat in a short time. Once the sun gets well into the sky the shad disperse and the fish move deeper into the grass, making a slower presentation necessary to continue catching. Soft plastics work well for this style of fishing, a Senko, fluke or plastic worm will work just fine, lightly weighted and dragged slowly through the grass it is possible to continue having success throughout the morning at a slower catch rate.
The east side of Okeechobee is lined with Kissimmee Grass around the outer edge of the lake, and it continues around the north end of the lake. The north shore area is lined with Kissimmee grass all the way West to Harney Pond. As the lake turns south around Point of the Reef and further down along Observation Shoal the grass continues. It is a huge area to cover but the possibilities are endless. Watch the wind conditions and plan accordingly so that when windy conditions prevail you can launch your boat and fish in an area where the wind will not impede your day of fishing.
FORECAST BY: Capt. Mike Shellen
Shellen Guide Service
Phone: (863) 357-0892
Email: sjmike7@aol.com
www.OkeechobeeBassFishing.com