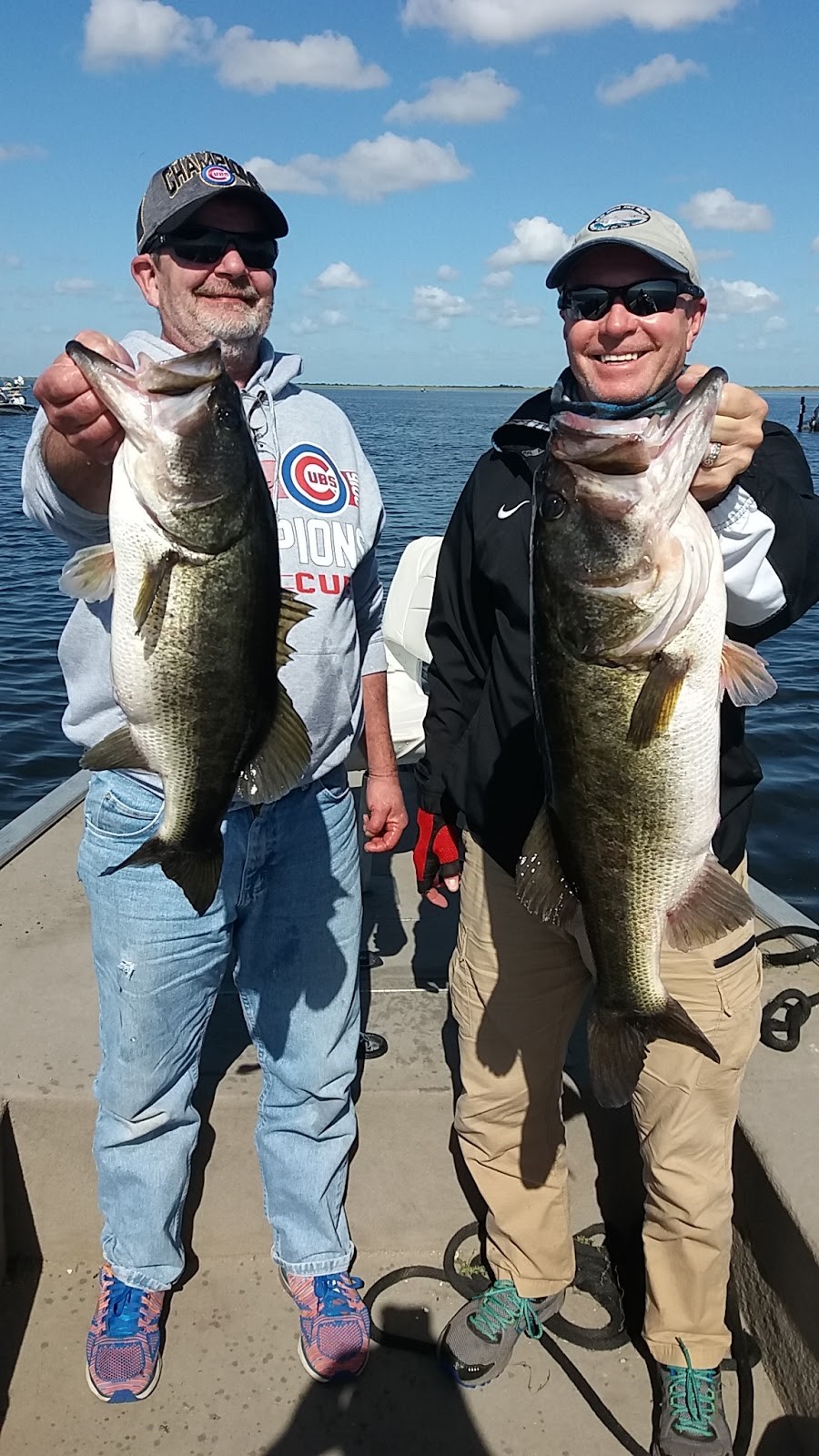 Lake Okeechobee has had some beautiful and breath-taking views in the morning lately!  This time of year, you can see a beautiful sunrise in the morning and birds flying off to their roosts each evening. The fishing is also heating up as the water temperatures rise. The fish start to move into a summer feeding pattern.
The bass fishing around Tin House Cove, Indian Prairie, all the way down to Brice Fine Pass have some great action going on during early mornings.  Make sure to use shiners along the outside grass lines. As summer approaches, getting an early start each morning, will help you catch that early bite that has been faithful. Water conditions can change quickly with the wind.  Keep your eyes peeled for the clean water. I am using a ManOwar Tiamat series 7-foot 6-inch rod, rigged with 65-pound Power Pro line, wild shiners with a float, and a 4/0-5/0 Kahle hook. Remember to let the bass have the bait for a couple of seconds before you set the hook. This will ensure that the fish has the bait and a proper hook set. Artificial fishing on the other hand has had its ups and downs. Topwater early is still your best bet!  After the sun comes up, follow with Senko or a D.O.A C.A.L. jerkbait. Flipping mats and hard edges is also good this time of year, if you are looking for that big bite. So what can you expect to catch when fishing for bass?  Half day trips right now have produced catches up to 40 bass! Full day trips can bring in 60 to 70 fish per outing. We have some big fish being reeled in! Many bass are in the 6-to-9-pound range.
The crappie action is still going strong but is also starting to taper off.  Crappie can still be found along Grassy Island, Eagle Bay and Third Point, Monkey Box, and you can try shoal near Whiddens Pass. Minnows and grass shrimp are working well. Jig bite remains solid in the reeds. Look for a mixture of cattails and hydrilla and it shouldn't take long to get your limit.
Reports of shell crackers are starting to come in. Try inside of Tin House Cove, around the Bird Islands.  You can expect to see more shell crackers fishing around the next moon. Be sure to check the calendar and track the moon phases. Both bluegill and shellcrackers can be found by looking for their spawning beds. Try fishing near the beds using live red worms, crickets, or grass shrimp. You should have no problem getting your limit.
Catfish will be showing up more over then next month. Reeling in a cat should be easy pickings with chicken liver, cut up shad or shiners, or any of the catfish baits you can buy from the local stores.
As we approach summer, please remember to pack sunscreen and lots of water. Trips out on the lake can be windless and very hot. You don't want anything to hinder your day on the lake. Until next report good luck, tight lines, and Bucket Lips. I hope to see everyone on the water!
FORECAST BY: Capt. Nathan M. Shellen
Okeechobeebassfishing.com
(772) 501-6886
Email-sjmike7@aol.com