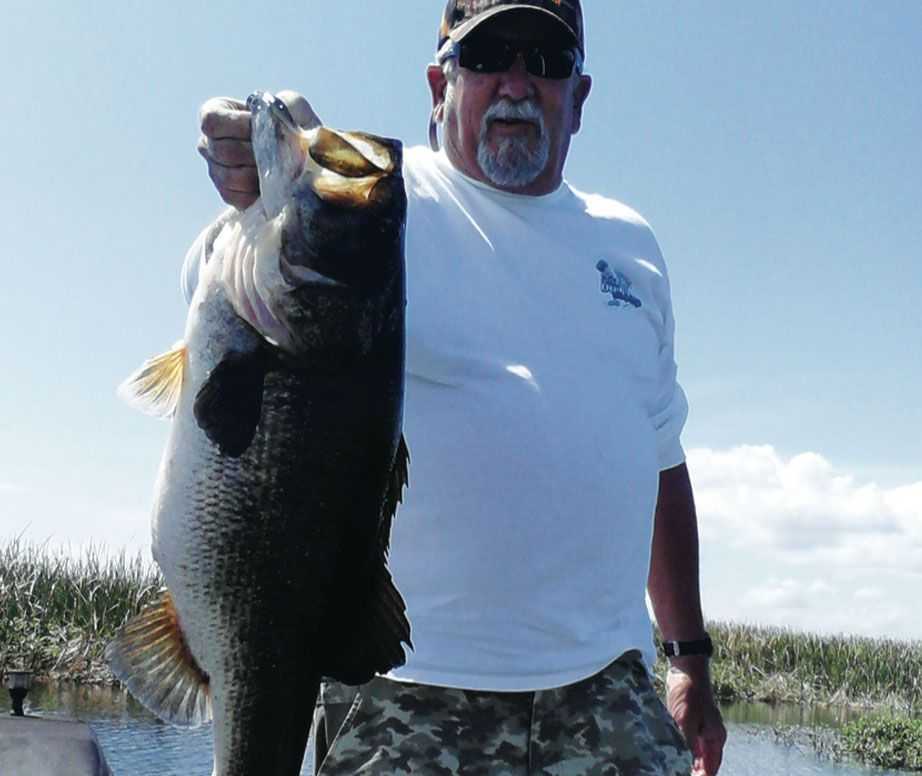 Lake Okeechobee is doing its normal thing right now. Bass fishing is good, speck fishing is good, shellcrackers are starting to show up, and bluegills are right around the corner. As some might say, It don't get no better than that!
So let's start with the bass. Catches up to 70 or 80 fish per day on shiners is not uncommon right now. We still have fish that are spawning and fish that are post spawn. The plus-side is that you can catch them coming and going. What I mean is, you'll find fish congregated on the outside edges and points, some are moving in to spawn while others are moving back out after spawning. So that makes for a lot of fishing excitement. Bass in the 7-lb and up range are being caught regularly, with an occasional 10-lber showing up. For the artificial fisherman, the spinner bait bite is starting to heat up as the water temperatures rise, and pitching the bull reeds with a worm or craw is always good this time of year. Start staying more to the outside edges of the reeds and grass for your best results. Tin House Cove, Grassy Island, and Kings Bar are good places to start whether you are using live bait or artificial fishing.
The speck bite is still going strong and this year has seen a nice increase in the average size of the specks being taken. Anglers are catching limits at Kings Bar and Little Grassy daily. Once again the warmer water temperatures have helped this along. With the warmer water we are seeing more dollar pads and hydrylia growing again, and the specks are heading straight for them. The morning bite has been good, but the afternoon bite has been even better. Jigs and minnows are both working, but the jig fisherman seem to be catching bigger fish while the minnow fisherman have been doing better at night in the river and drifting the lake out in front of the river and Kings Bar. Just to be safe, take plenty of minnows and jigs, there is nothing worse than not having enough of what they are eating.
Shellcrackers are starting to show up in Tin House Cove and inside Eagle Bay. With the full moon just around the corner this should be a good run. I have always noticed that the first wave of the shellcracker spawn is usually bigger than what follows in the rest of the season. Red worms, grass shrimp, and crickets are the baits of choice. When you find a shellcracker bed try not to get right on top of it, they can spook easily which makes it tougher to catch them. Stay to the side of the bed and use a light spinning outfit with 6-lb to 8-lb line. With a number four bronze hook and a split-shot about a foot up the line, toss your bait in the bed and slowly work it through the bed. You can use a small cork if you like, just remember to use the smallest cork you can get away with, less resistance on the bobber means more bites and more fish caught. Bluegills should start showing up around the end of the month and they tend to stick around longer during the full moon. Crickets and beetlespins are the bait of choice for bluegills.
If you're planning a trip to the Big 'O', remember to stop by Garrards Bait and Tackle for all your fishing needs. They have a full line of lures, rods, reels, and whatever bait you need to make your fishing day a success.