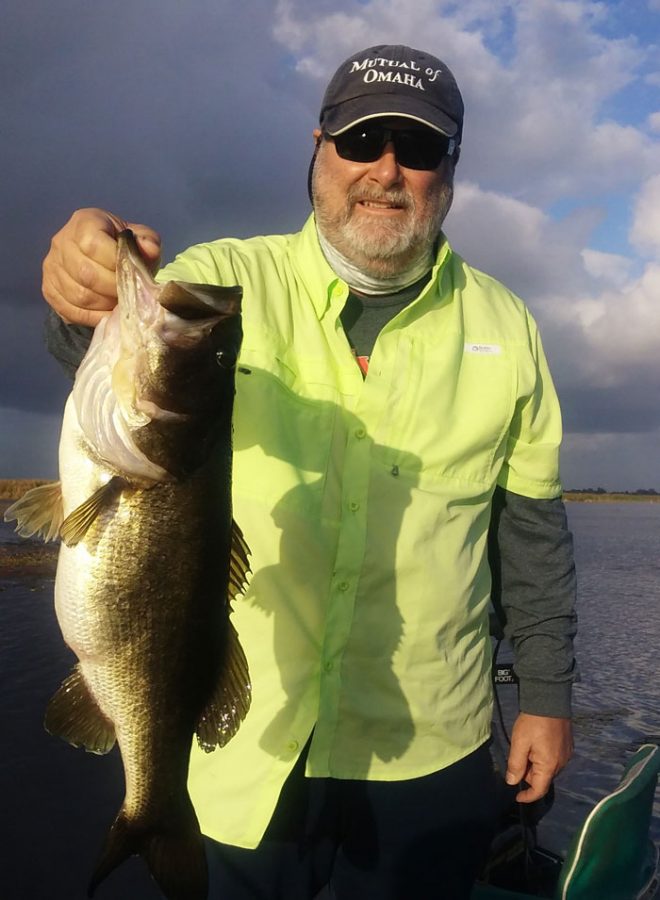 Bass fishing on the north end of The Big 'O' has been up and down, just like the weather. Cooler water temperatures and windy days have made for some tough days, but this is Okeechobee, where on any given day the fish are biting somewhere.
On the days where we have had cold fronts bringing water temperature down, the Kissimmee River has produced good numbers and big fish up towards the 11 pound range. When temperatures drop, deep water ledges and points are just what the doctor ordered. Carolina rigged worms and deep diving crank baits are great baits to try on cold days.
Live shiner fishing in deep water when the water is cold is usually very good. Put a shiner right on the bottom and wait for a bite just like you would if you were fishing with a float. The only difference is instead of watching a bobber you'll need to watch your line. If you see your line jumping around you can bet your shiner just saw something that he does not want to see. Deep water areas on the north end of the lake are the Kissimmee River, Government Cut, and the Rim Canal. All of these places have rock ledges and underwater humps that will hold fish. In the Rim Canal, stick to the lake side of the canal where the shoreline break is usually quicker (deeper) and where there is more vegetation to provide shelter for the bass.
Remember that a good fish finder is very handy when fishing deeper water, a good graph is a must have when locating structure in these areas. When the weather is nice and you can get out into the lake, Grassy Island, Kings Bar, and Tin House Cove have been very good areas to fish. But remember, if the water temperature drops from a cold front the bite can be very tough, so head toward deeper water.
Winter also brings plenty of windy days which raises the primary question, where to fish in higher winds. Areas inside of Eagle Bay and Cody's Cove can protect you from the wind and produce some nice bass. One of the keys to being successful on the Big 'O' is to master the use of wind in your fishing. Whether winter or summer, learning to look for wind drive current that drives bait fish through channels and trails can greatly increase your rate of success.
The Speck fishing continues to improve as we move farther into winter and closer to spring. Indian Prairie, Horse Island and Third Point have produced good limits of Specks on jigs and minnows and fisherman that are drifting out in front of Taylor Creek are catching limits as well. Chartreuse and white jigs and lime green jigs have been very productive but always have a good assortment of colors and sizes when you go. Over the recent weeks, the Specks have been running quite large, reports of 2 to 2.5 lb slabs are quite common.

 Be sure and stop by Garrard's Bait and Tackle for all your fishing needs, live or artificial bait they have it.
Good Fishin