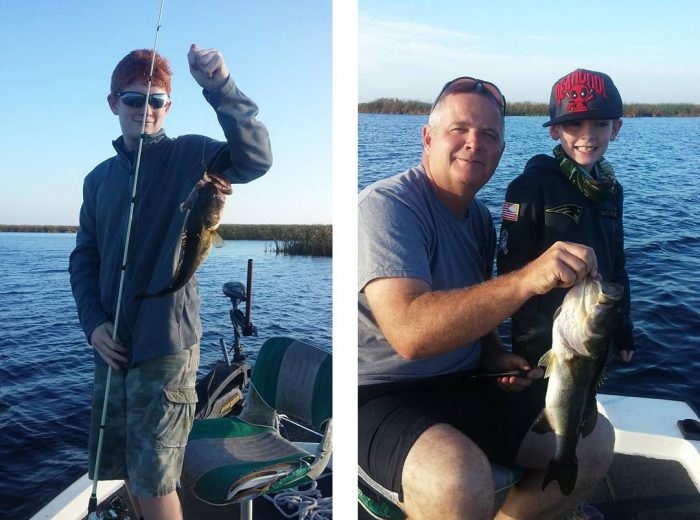 Fishing on the north end of the Big 'O' has been for the most part very good; mild air temperatures and good weather has made conditions favorable for a good bite. Early morning bass action has been at its best on wild shiners, catches of 50 plus fish a day are common and bigger females continue to move in from the open lake for their annual spawning ritual.
Buckhead Ridge and Tin House Cove have been the most consistent for fast action. Schools of smaller fish in the 1 lb to 3 lb range are on the outside edges of the reed lines and they make for some fun and fast action.  After you go through 3 or 4 dozen of your shiners, move inside and find a mat to anchor up on and you will have a better chance at a big fish.  Eagle Bay had its ups and down, one day it's some of the best fishing you have ever seen and the next it can leave you scratching your head.  But don't be discouraged, this is a big lake and with a little local knowledge and a little effort, you can find fish biting.
The North Shore down on the west side of the lake in the Lakeport area has had very good action in open water between Horse Island and the Point of the Reef.  The best thing about this part of the lake is there are a couple of different ways to fish here; you can anchor your boat which is what most fishermen do, or you can drift and this area is meant for drifting. When drifting you can cover a lot of water fast and can find fish in a hurry. If you hit a hotspot drifting and catch a couple of fish real quick, don't be afraid to stop your boat and put some live baits out. Even if you are artificial fishing, when you are drifting like that an anchor can be your best friend. So many times people will catch a bass and move right on down the line, when in reality they should stop their boat and fish it slow. Bass usually have a few of their friends with them so don't think that's the only fish there.  Since January typically has more windy days, deploying a drift sock will slow down your drift enabling you to work the area more thoroughly.
Crappie action has been improving. Specks are moving into the reed heads in front of the Okeechobee Pier and at the Buckhead marker and are being caught on jigs and minnows. Fishermen that are drifting are catching limits in the open lake out in front of the mouth of the Kissimmee River. Down towards Harney Pond, anglers are not maxing out yet but the size of the Specks have been impressive. Reports of 2.25 to 2.75 lb Specks have been common. The area between Bird Island and the Point of the Reef has been very active.
During the bass and Speck spawning seasons, pay particular attention to the phases of the moon. During the next few months, the days just prior to and just after the full and new moons will be particularly active.
Be sure and stop by Garrard's Bait and Tackle for all your fishing needs.
GOOD FISHIN